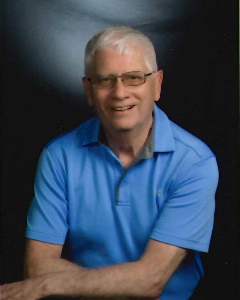 Service Information
Robert "Bob" Olson, age 77, husband of Cherie, of Hutchinson, Minnesota, passed away on Sunday, August 14, 2022, at his home.
Memorial Service will be held on Monday, August 22, 2022, at 11:00 A.M. at Christ the King Lutheran Church in Hutchinson, with interment in Oakland Cemetery in Hutchinson.
Gathering of Family and Friends will be held on Sunday, August 21, 2022, from 3:00 to 6:00 P.M. at Dobratz-Hantge Funeral Chapel in Hutchinson and will continue one hour prior to the service at the church.
Memorials preferred to Christ the King Lutheran Church, Alzheimer's Association, Hutchinson Disabled American Veterans (DAV), or Hutchinson Common Cup.
Military Honors by the Hutchinson Memorial Rifle Squad.
The service will be livestreamed on ctkhutch.com. Please click on the "Worship" tab on top of the screen and then click on "Christ the King LIVE."


Visitation/Gathering
Dobratz-Hantge Chapel
899 Highway 15 South
Hutchinson, MN
Website:hantge.com
Service
Christ The King Lutheran Church
1040 South Grade Road
Hutchinson, MN
Funeral Chapel
Dobratz-Hantge Funeral Chapel
899 Highway 15 South
Hutchinson, MN 55350
Phone:(320) 587-2128
Cemetery
Oakland Cemetery
805 Hwy 15 South
Hutchinson, MN
Obituary
Robert "Bob" Delano Olson was born on June 24, 1945, in Willmar, Minnesota. He was the son of John and Esther (Everson) Olson. Bob was baptized as an infant and was later confirmed in his faith as a youth at Faith Lutheran Church in Grove City, Minnesota. He received his education in Grove City. Bob was a three-sport athlete and was captain of the football, basketball, and track teams, and received the Outstanding Athlete Award during high school. Bob was a graduate of the Grove City High School Class of 1963. He furthered his education in the Navy as an Electronics Technician.
Bob entered active military service in the United States Navy on December 30, 1963, in Minneapolis, Minnesota, and served his country during the Vietnam Conflict. He received an honorable discharge on December 7, 1967, at the Naval Air Station, Alameda, California, and achieved the rate of Tradesman Petty Officer Third Class. He received the National Defense Service Medal.
On August 21, 1964, Bob was united in marriage to Cheryl "Cherie" Furhman at the Naval Air Station Chapel in Millington, Tennessee. This marriage was blessed with two daughters, Carla and Wendy. Bob and Cherie resided in Alameda, California, and later moved to Hutchinson, Minnesota. They resided in Hutchinson until they built their retirement home on Lake Stella in 2000. In 2022, they returned to Hutchinson and moved into their newly built home in April. Bob and Cherie would have celebrated their 58th anniversary on August 21, 2022.
Bob worked his entire career as an electronics technician at 3M in Hutchinson, until his retirement in 2003. After retiring, he worked part-time doing odd jobs and maintenance at Hantge Funeral Chapels in Hutchinson for several years. As an active member of Christ the King Lutheran Church, he served on the property and management committee, ushered, and enjoyed doing miscellaneous jobs for the church.
Through the years, Bob was an active volunteer in his community. He was a member of the Hutchinson Jaycees, serving as Vice President and Water Carnival Parade Chair, among other things. He was also a member of the American Legion Post #96, Elks Post #2427, and served as President of the Darwin Lions Club which involved him in many lakes area events.
Bob loved to travel with his wife, Cherie, visiting many friends and relatives on the driving trips they enjoyed around the United States. For 10 years, they escaped the Minnesota winter and spent time in Winter Haven, Florida with friends. He also enjoyed fishing trips with his friends to Canada, cruises to Alaska, the Panama Canal, and the Bahamas, a bus tour through French Canada, and bus day trips to various venues in the metro and surrounding area. He especially enjoyed going to Duluth to visit his daughter, Carla and family, meeting his grandsons at the Twins game or other events, and going to the sporting events of his local grandsons through the years. Bob was truly a "Jack of all trades" and "Mr. Fix-it". He enjoyed wood working and built many beautiful pieces of furniture over the years. His other hobbies included boating, fishing, water skiing, snow skiing, bowling, ping pong, and doing puzzles.
Bob was first and foremost a family man and always put everyone before himself. He loved his wife, daughters, grandchildren and friends. He was kind and loving to everyone he knew.
Bob passed away on Sunday, August 14, 2022, at his home, at the age of 77 years.
Blessed be his memory.
Bob is survived by his:
Wife, Cherie of Hutchinson, MN;
Daughters, Carla Egge and her husband, Rick of Hermantown, MN,
Wendy Hantge and her husband, Rich of Hutchinson, MN;
Grandchildren, Gavin Hantge of Hutchinson, MN, Jay Hantge of Duluth, MN, Luke Reid and his wife Nikki of Baldwin, WI, Aaron Reid of Duluth, MN, Rick Egge of Cloquet, MN, Bill Egge of Bennett, WI, Elizabeth Christie of Duluth, MN and Landen Villenueve of Duluth, MN;
Great-grandchildren, Chloe, Lilah and Mason Reid;
Brother, Roger Olson of Litchfield, MN;
Sister, Jan Krantz and her husband, Charles of Phoenix, AZ;
Many other relatives and friends.
Bob is preceded in death by his Parents, John and Esther Olson; Sister-in-law, Jan Olson.