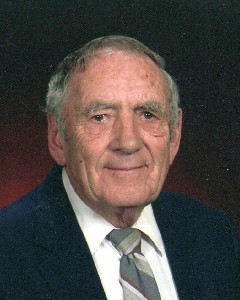 Service Information
Robert Prax age 87, of Fairfax, entered the heavenly kingdom on Sunday, January 17th, 2016 at the Golden Living Center in Franklin.
Mass of Christian Burial will be Friday, January 22nd, 11:00 A.M. at St. Andrew's Catholic Church in Fairfax with interment in the church cemetery. Memorials preferred to  St. Andrew's Catholic Church or San Lucas Toliman, Guatemala.
Visitation will be Friday, January 22nd, from 9:00 A.M. until the time of the service at the church.
Military Honors by the Fairfax Honor Guard
Visitation/Gathering
St. Andrew's Catholic Church
15 SE 1st Street
Fairfax, MN
Service
St. Andrew's Catholic Church
15 SE 1st Street
Fairfax, MN
Funeral Chapel
Hauser-Hantge Funeral Chapel
601 South Park Street
Fairfax, MN 55332
Phone:(507) 426-7274
Cemetery
St. Andrews Catholic Cemetery (Cairo Twp)
Cairo Township, rural Fairfax, Renville County, MN
Fairfax, MN
Obituary
Robert Earl Prax was born in Franklin, Minnesota, on December 13, 1928, to Wenzel and Helen (Schnichels) Prax. His father worked for the railroad and the family moved to Gibbon and then to Fairfax, where Robert grew up. Robert was baptized as an infant and was later confirmed in his faith as a youth.
He received his elementary education at St. Andrew's Parochial School and graduated from Fairfax High School in 1946. He worked for Renville-Sibley Rural Electric Association as a lineman until 1951 when he entered the United States Army during the Korean Conflict. He served two years until March of 1953, when he was honorably discharged with the rank of Sergeant. After his discharge, he worked briefly at Renville-Sibley REA in Danube and then entered the bakery business and later formed a partnership with his brother, Wesley in the retail grocery business.
On June 23, 1956, he married Dorothy A. Ferguson of Danube at St. Andrew's Catholic Church in Fairfax. The couple shared almost 60 years of marriage. Four children were born to this union.
As a young businessman, Robert was secretary of the Fairfax C&C, served many years as a member of the Fairfax Fire and Rescue Squad, retiring in 1983, and bowled for many years on the Romie's Café Team. He was a PUFL member of Fairfax American Legion Post #205 and blew taps for many military funerals for both the Legion and VFW Posts.
Robert loved and lived his faith. He was President of the first school board of St. Andrew's, one of the first lectors, song led (often accapella) and was a choir member until the stairs got to be too much. He was an usher, past Grand Knight of the K.C.'s, and called Bingo for many years. His final employment after retiring from the grocery business was taking care of St. Andrew's Cemetery and church yard. He loved being outdoors and especially enjoyed his 20 years of motorcycling with Dorothy as his passenger.
Robert was a very honest, humble and upright man, a good friend to all who knew him. He highly valued his relationship with his family, church, friends and his God. May his soul now rest in peace.
Robert is survived by his:
Wife,                Dorothy Prax of Fairfax, MN;
Children,           Robert James "Jim" Prax of Fairfax, MN,
                        Thomas (Sue) Prax of Le Sueur, MN,
                        Katie (Mitch) Maurer of Benson, MN, and
                        Karen (Mike) Langer of Wayzata, MN;
Grandchildren, Andrew (Heidi) Maurer of Half Moon Bay, CA, Garrett (Audra) Maurer of Wolverton, MN, Zachary Maurer and Alissa Maurer of Benson, MN, Ashley Prax of Le Sueur, MN, and Bryce Prax of Le Sueur, MN, Jennifer (Jason) Bents of New Ulm, MN, Michelle (Bryan) Foss of St. Paul, MN, and Tom Langer of Minneapolis, MN;
Four God-Daughters through the celebration of baptism, Dianne Prax Armstrong, Lisa Palmer Herreld, Lisa Fahey Bleick, and Natalie Boyum Peichel;
Brothers, Wesley (Doris) Prax of Fairfax, MN, and Roger (Judy) Prax of Ukiah, CA;
Sisters, Vietta Brightwell of Springfield, MO, and Bernadette Boyum of Fairfax, MN, and
Brother-In-Law, Ray Ferguson of Danube, MN;
Many Nieces, Nephews, other relatives and friends.
Robert was preceded in death by his Parents, Wenzel and Helen Prax; Brother, Warren Prax; Sisters-In-Law and Brothers-In-Law.