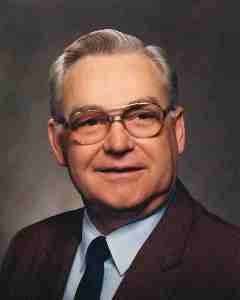 Service Information
Robert "Bob" Benshoof, age 80, of Hutchinson, passed away Saturday, January 23rd, 2016, at Harmony River Living Center in Hutchinson.
Funeral Services will be Thursday, January 28th at 11:00 A.M. at Peace Lutheran Church in Hutchinson with interment in the church cemetery. Military Honors by the Hutchinson Memorial Rifle Squad.
Visitation will be Wednesday, January 27th from 6:00-8:00 P.M. and Thursday, January 28th from 8:00-9:00 A.M. at the Dobratz-Hantge Funeral Chapel in Hutchinson and will continue one hour prior to the service at the church.
Visitation/Gathering
Dobratz-Hantge Chapel
899 Highway 15 South
Hutchinson, MN
Website:hantge.com
Service
Peace Lutheran Church
400 Franklin Street SW
Hutchinson, MN
Funeral Chapel
Dobratz-Hantge Funeral Chapel
899 Highway 15 South
Hutchinson, MN 55350
Phone:(320) 587-2128
Cemetery
Peace Lutheran Cemetery (Hutchinson)
205th Drive
Hutchinson, MN
Obituary
Robert Eugene Benshoof was born on November 3, 1935, on his grandparent's farm in Grant County, South Dakota, to William and Mable (Hoogestraat) Benshoof and was baptized on March 15, 1936, by Pastor Harry S. Rames "at the Hoogestraat home".  He confirmed his faith in Jesus Christ as an adult at Trinity Lutheran Church of Ortonville, Minnesota, on December 4, 1959.
Bob graduated from Ortonville High School, where he lettered 4 years in football, basketball and track, in 1954.  He was proud member of the Ortonville National Guard and the Appleton National Guard.  He served on the Employers' Support of the Guard and Reserve Committee from June 1987 until November 2009 when his health prevented active participation.
On May 18, 1963, Bob was united in marriage to Arlene Schaible at Bethlehem Lutheran Church in St. Paul, Minnesota, by Pastor Harold C. Braun.  Their marriage was blessed with two children, Mark and Marcia. They shared 52 years of marriage.
Bob began employment at 3M Company in St. Paul on February 2, 1961, and transferred to the 3M Company in Hutchinson in March of 1971.  He retired February 2, 1996.
Fishing and hunting were his favorite activities, but he enjoyed seeing his children and grandchildren "pull in the big fish" or "bring down the deer or goose" as much as doing so himself. He also enjoyed watching them participate in school sports and music activities.  Family activities were always a high priority.
Bob was a member of Peace Lutheran Church where he served as usher, Sunday school teacher, elder, president and volunteer on various committees.  Participating in regular weekly worship and Bible study was very important to him until his health prevented active participation.
Bob was welcomed home into the loving arms of Jesus on Saturday, January 23, 2016, at Harmony River Living Center in Hutchinson, where a Bedside Memorial and Procession of Honor was given, at the age of 80 years.  Blessed be his memory.
Bob is survived by his:
Wife, Arlene Benshoof of Hutchinson, MN;
Son, Mark and his wife, Debra of Cottage Grove, MN;
Daughter, Marcia Talbot and her husband, Peter of Algona, IA;
Grandchildren,  Zachary Cronen and his wife, Christina, Joshua Benshoof, Benjamin Benshoof, Michael Talbot, Caleb Talbot and Hailey Talbot;
Sister, Barbara Lueck of Weatherford, OK;
Brother, Jim Benshoof of Casa Grande, AZ;
Sister-in-Law, Adelaide Levno and her husband, Otto, of Hutchinson, MN;
Nieces, Nephews, Cousins, and many other relatives and friends.
Bob was preceded in death by his Parents, William and Mable Benshoof; Brother, Lewis Benshoof; Sister-In-Law, Alice Demmer; Brother-In-Law, James Lueck.
"For God so loved the world that He gave his only begotten Son, that whoever believes in Him should not perish, but have everlasting life."  John 3:16