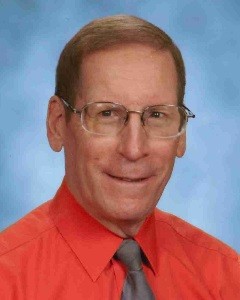 Service Information
Robert "Bob" Schafer, age 64, of Hutchinson, passed away on Tuesday, March 8, 2016, at Augustana Dassel Lakeside Community Home.
A Funeral Service will be Saturday, March 12, 2016, at 11:00 A.M., at Peace Lutheran Church in Hutchinson, with interment in the Zion Lutheran Cemetery in Mayer, Minnesota.
Visitation will be Friday, 5:00-8:00 P.M. and Saturday, 8:00-9:00 A.M. at Dobratz-Hantge Funeral Chapel in Hutchinson, and will continue one hour prior to the service at the church
Visitation/Gathering
Dobratz-Hantge Chapel
899 Highway 15 South
Hutchinson, MN
Website:hantge.com
Service
Peace Lutheran Church
400 Franklin Street S
Hutchinson, MN
Funeral Chapel
Dobratz-Hantge Funeral Chapel
899 Highway 15 South
Hutchinson, MN 55350
Phone:(320) 587-2128
Obituary
Robert "Bob" Dell Schafer Jr. was born on June 2, 1951, in Watertown, Minnesota. He was the son of Robert and Shirlee (Schroeder) Schafer. Bob was baptized as an infant on July 3, 1951, at St. Paul's Lutheran Church in Watertown, and was later confirmed in his faith as a youth in 1965, at Zion Lutheran Church in Mayer, Minnesota. He received his education in Mayer, and was a graduate of the Lutheran High School Class of 1969. He furthered his education at the Dunwoody College in Minneapolis and graduated with an Associate Degree in Architectural Drafting in 1971. He was then employed at Federal Lumber in Brooklyn Center, Minnesota, for 10 years.

Bob was involved in his community. He was a statistician for the Mayer Blazer's Baseball Team. While living in Elk River, Minnesota, Bob was actively involved in various community theatres. He enjoyed running, admired firetrucks, and was an avid Minnesota Twins and Minnesota Vikings fan, even while living in Michigan. He especially enjoyed spending time with his family, and friends. He sang in various church choirs thoughout his life. While in Michigan, he was a member of the Detroit Singers Community Group.

Bob decided to continue his education at Concordia College in Seward, Nebraska, and graduated with a Bachelor of Science Degree in Teaching and Business Education. He received a call to teach at Lutheran High School North in Macomb, Michigan. During his nine years of teaching there, he coached the high school track team.

On June 21, 1986, Bob was united in marriage to Janice Guetzkow, at St. Mark Lutheran Church in New Germany, Minnesota. They were preparing to celebrate their 25 years of marriage until Janice passed away in 2011.

He finished his education with his Master's Degree in Business Administration in Lansing, Michigan.

Bob most recently was called as a Resource Manager at St. John Lutheran Church in Rochester, Michigan, where he served for 17 years until he was placed on medical leave. While a member there, he was a Liturgist and a member of the choir. Bob enjoyed hosting a small group Bible Study in his home in Shelby Township, Michigan.

When Bob needed help with his daily care, he moved back to Minnesota, in October 2014, and was a resident at the Ecumen Oaks in Hutchinson. Bob was a member of Peace Lutheran Church in Hutchinson.

On January 29, 2016, he moved to Augustana Dassel Lakeside Community Home, Dassel, Minnesota. Bob passed away there on Tuesday, March 8, 2016, at the age of 64 years.

Blessed be his memory.

Bob is survived by his:
Mother, Shirlee Tesch of Hutchinson, MN;
Brother, Richard Schafer and his wife, Lynn of Faribault, MN;
Sisters, Linda Heldt and her husband, Larry of Hutchinson, MN,
Lila Brewer of Reno, NV
Lisa Asmus and her husband, Reverend Aaron of Sioux Falls, SD;
19 Nieces and Nephews;
2 Great Grand Nieces;
Many Grand Nieces, Nephews, other relatives and friends.

Bob is preceded in death by his Father, Robert Schafer; Step father, Lowell Tesch; Spouse, Janice Guetzkow; Parents-in-law, Vernon and Florence Guetzkow; Sister, Liana Clark; Sister-in-law, Karen Hamann and her husband, Dale; Nephew, Alan Asmus.