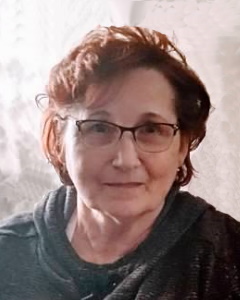 Service Information
Robin L. Eischens, wife of Daniel, age 70, of Cosmos, Minnesota, passed away on Monday, October 17, 2022, at her home in Cosmos.
Memorial Service will be held on Saturday, November 5, 2022, at 11:00 A.M. at Dobratz-Hantge Funeral Chapel in Hutchinson, with interment in Ripley Cemetery in Litchfield, Minnesota.
Gathering of Family and Friends will be held on hour prior to the service at the chapel.
Visitation/Gathering
Dobratz-Hantge Chapel
899 Highway 15 South
Hutchinson, MN
Website:hantge.com
Service
Dobratz-Hantge Chapel
899 Highway 15 South
Hutchinson, MN
Website:hantge.com
Funeral Chapel
Dobratz-Hantge Funeral Chapel
899 Highway 15 South
Hutchinson, MN 55350
Phone:(320) 587-2128
Cemetery
Litchfield (Ripley) Cemetery
Hwy. 22
Litchfield, MN
Obituary
Robin Lee (Rick) Eischens was a beloved wife, mother, grandmother and great grandmother during her 70 years of life. She passed away peacefully in her sleep in the early hours of Monday, October 17, 2022. Robin's life may have been cut short, but she touched the hearts of many while she was with us.
Robin was born on January 31, 1952 to Leslie and Alina (Holtz) Rick in Litchfield, Minnesota. She was baptized in March of 1952 and was later confirmed in her faith in May of 1966. Robin graduated high school from Litchfield Senior High with the class of 1970.
Robin enjoyed high school and socializing with her friends. She also loved working at the local Dairy Queen in Litchfield. She made the best curl at the top of a vanilla cone! She had a special bond with children and so shortly after high school she ran an in-home daycare service. She held various customer service roles throughout her life, but when she wasn't working, she was out in the backyard enjoying the sun and gardening, she loved baking and she cherished spending time with her grandkids. She baked the most delicious cookies, cakes and candies. She would always bake for neighbors and friends. Baking Christmas cookies was her absolute specialty, she loved baking and decorating the cookies and her grandkids loved eating them.
Robin was married to her first husband W. Michael (Mike) Johanneck in 1971 and together they had three children; Jonathan Michael, Jaime Brooke and Kristy Lynn. While their marriage wasn't destined to last, they did the best they could to co-parent and raise their kids. One of her biggest prides in life was being a mom to her three kids.
On September 10, 1999, Robin married the lasting love of her life Daniel (Dan) Eischens. Together they shared 23 beautiful years of marriage. Through that union, Robin welcomed three step-children that she helped to raise and loved as her own, Angela Marie, Steven Daniel, and Tiffany Ann. Throughout their life together they enjoyed living in many different places in Minnesota, from Litchfield to Olivia to Jackson to Coon Rapids to their final home in Cosmos - and all the special homes in between. In this journey they met so many wonderful people that they cherished as friends.
Robin lit up a room with her smile and her genuine care for everyone had an impact on so many people. She was sweet with her love of cats, mainly Siamese cats. She loved Pepsi, her friends and family, and she filled her home with warmth and kindness. Later in life, she really enjoyed cherished time with her siblings and in particular with her best friend and sister, Kim. To say we will all miss her greatly, would be an understatement.

Robin is survived by her husband, Dan Eischens of Cosmos, MN; her three children: Jonathan Johanneck, Jaime (Mike) Nielsen, and Kristy Johanneck and her three step-children: Angela Eischens, Steve (LeeAnn) Eischens, and Tiffany (Matt) Hinker. She is also survived by 13 grandchildren and two great-grandchildren: Evan Johanneck, Brookelyn Johanneck, Jada Johanneck, Addyson Johanneck, Cooper Nielsen, Crosby Nielsen, Charli Nielsen, Brayden (Lexi) Weaver, Christian Weaver, Alexander Johanneck, Amelia Eischens, Whalen Eischens and Brooks Eischens and her great grandchildren Bentley Weaver and Saylor Weaver. She is also survived by her beloved siblings: Steve (Kay) Rick, Terry (Wayne) Fortun, Susan (Dan) Piepenburg, Merridee (Joel) Johnson, and Kim (Wes) Herzog.
Robin is preceded in death by her parents, Leslie and Alina Rick.