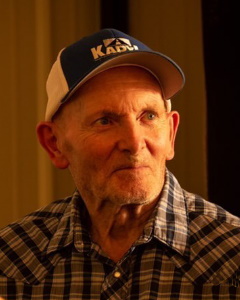 Service Information
Ronald J. Penk, age 78, of Stewart, Minnesota, passed away on Wednesday, September 14, 2022, at Glencoe Regional Health in Glencoe, Minnesota.
Memorial Service will be held on Saturday, September 24, 2022, at 11:00 A.M. at St. Paul's Lutheran Church in Stewart, Minnesota, with interment in the church cemetery.
Gathering of Family and Friends will be held on Saturday, September 24, 2022, from 9:30 to 11:00 A.M. at the church.
Memorials preferred.
Visitation/Gathering
St. Paul's Lutheran Church
300 Croyden Street
Stewart, MN
Service
St. Paul's Lutheran Church
300 Croyden Street
Stewart, MN
Funeral Chapel
Dobratz-Hantge Funeral Chapel
899 Highway 15 South
Hutchinson, MN 55350
Phone:(320) 587-2128
Cemetery
St. Paul's Lutheran Cemetery (Stewart)
300 Croyden St - Across Croyden Street from Church
Stewart, MN
Obituary
Ronald John Penk died peacefully at Glencoe Regional Health, Glencoe, MN, after visits from those near and dear to him who shared stories of great times together. Ron's favorite music from the 1950's played in the background. Ron lived on the family farm in Stewart, MN until June 2022, and then enjoyed his brief time living at Buffalo Lake Healthcare Center in Buffalo Lake, MN.

Ron was born September 3, 1944 in Hutchinson, MN. He was the son of Lloyd and Rose (Haukedahl) Penk. He was baptized as an infant and later confirmed in his faith at St. Paul's Lutheran Church in Stewart. He was a life-long member of the church where he served on the Cemetery Board and as head usher. Ron never attended church without a suit and tie. He remained a faithful man until the end; always telling his kids during hard times, "be sure to pray".

Ron attended Stewart Public School and was an excellent athlete, especially in wresting. He graduated in 1962, and soon became father to Virginia ("Ginny") and then to Daniel ("Danny") with his wife Judith Nelson Penk.

Ron was a beef and dairy farmer from the moment he could walk and until his Parkinson's disease forced him to stop. Parkinson's took too much away from Ron, but he never complained. He taught us so much amidst his struggles. He gave the disease the "Penk fight". He persisted and found new ways to do ordinary things. We all admired his grit. He made the best of every day, always asked how others were doing, and wanted to hear every detail about their day. He was a walking encyclopedia on many fronts, especially always knowing the birth, marriage and death dates…heck, even the first dates…of people in the area. If someone needed to know a date, they called Ron.

Ron never met a raw hamburger or a Dilly Bar he didn't love; he relished his weekly trips to the DQ.
He was known for his kindness, sweet way, sly smile, intelligence, sharp wit, love of sweets and his intense work ethic. No matter what, the barn needed to be cleaned, the cows needed to be milked and the cattle needed to be fed. No one could toss hay bales like Ron!

Ron was a voracious reader and was always surrounded by books of many genres; he was a life long learner. He treasured time with friends at "the counseling table", and especially loved spending time with his children, brothers and his grand and great-grandchildren.

Ron is survived by his daughter Virginia Lee Penk-Williams of Cincinnati, OH, his son Daniel Ronald Penk of Kingston, MN, brothers Larry Penk (Rosemary Tobin) of Carlton, MN, Dale (Kristen) Penk of Scottsdale, AZ and Richard (Roxy) Penk of Litchfield MN, sister-in-law Ilene Penk of Brownton, MN, grandchildren Danielle (Tim) Hall of Carver, MN, Beau (Molly) Penk of St. Cloud, MN, Jackson Penk of St. Cloud, MN, great-grandchildren Madden Penk, Evie Penk, Elliot Hall, Moriya Hall and Noah Hall, many nieces, nephews, cousins and close friends, some of whom have been friends since kindergarten. Ron loved them all.

Ron was preceded in death by his parents Lloyd and Rose Penk, brother Jerome Penk and son-in-law Keith Williams.

Blessed be his memory.