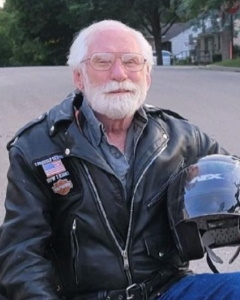 Service Information
Ronald L. Karg, age 75, of Glencoe, passed away Wednesday, July 13, 2022, in Westfield Township, Dodge County, Minnesota.
Funeral Service will be held Friday, July 22, 2022, 11:00 A.M. at First Evangelical Lutheran Church in Glencoe, Minnesota.
Visitation will be held Thursday, July 21, 2022, from 4:00 – 8:00 P.M. at the Johnson-McBride Funeral Chapel in Glencoe, Minnesota, and will continue one hour prior to the service at the church on Friday.
Military Honors by the Glencoe Military Honor Guard.
Visitation/Gathering
Johnson-McBride Funeral Chapel
1222 Hennepin Avenue
Glencoe, MN
Website:hantge.com
Service
First Evangelical Lutheran Church
925 13th Street E
Glencoe, MN
Funeral Chapel
Johnson-McBride Funeral Chapel
1222 Hennepin Avenue
Glencoe, MN 55336
Phone:(320) 864-3737
Obituary
Ronald Leroy Karg was born on January 9, 1947, in Glencoe, Minnesota. He was the son of John Gottfried and Marjorie Irene (Butts) Karg. Ronald was baptized as an infant on February 9, 1947, by Rev. Alfred Streufert and was later confirmed in his faith as a youth on May 22, 1960, by Pastor Harold A. Bode, both at First Evangelical Lutheran Church in Glencoe. He received his education in Glencoe and graduated with the Glencoe Highschool Class of 1964.
On March 22, 1966, Ronald entered active basic training at Fort Leonard Wood, MO for the United States Army. He achieved the rank of Specialist 4. Ronald received the National Defense Service Medal, Republic of Vietnam Campaign Medal, Vietnam Service Medal, Overseas Service Bar, and Good Conduct Medal. He was Honorably Discharged from Active Duty on March 21, 1968, from Ft. Sill, OK.
On May 31, 1968, Ronald was united in marriage to Diann R. Eaton at Immanuel Lutheran Church in Brownton, Minnesota, by Pastor R. W. Koepp. After their marriage, the couple resided in Glencoe. Ronald was employed at Tonka Toys as a quality control engineer for 25 years.  Ronald attended cabinetry school.  Following that, he began working at Goebel Fixtures in Hutchinson, MN, where he was currently employed at.  Ronald and Diann were blessed with three children, Connie, Lonn, and Jon. They shared 54 years of marriage together.
Ronald was a member of First Evangelical Lutheran Church in Glencoe.
Ronald greatly enjoyed riding his motorcycle, working on his collector cars and frequenting car shows. He was proud to say he owned a 1968 Chevelle SS and a 1967 Mercury Cougar. He also enjoyed gardening, making his own beer, carpentry work and loved to tell stories. He cherished the time he spent with his family, especially his children and grandchildren.
Ronald passed away on Wednesday, July 13, 2022, at the age of 75 years. Blessed be his memory.
Ronald is survived by his:
Wife, Diann Karg of Glencoe, MN;
Children, Connie Karg of Minneapolis, MN,
                   Jon Karg and his wife, Kimberly of Hutchinson, MN;
Grandchildren, Mercedes (Luke Wendorff) Karg, Chevelle (Mason Primus) Karg, Lexus Karg;
Great-granddaughter, Aubree Karg;
Step-great-granddaughter, Aubrey Kokesch;
Siblings, Bradley (Mary) Karg of Glencoe, MN, Stanley (Rosie) Karg of Glencoe, MN, Delbert Karg of Glencoe, MN, and Carolyn (Jeff) Garritsen of Forest Lake, MN;
Special mention, James (Rebecca) Mathews;
Nieces, nephews, other relatives and friends.
Ronald was preceded in death by his Parents, John and Marjorie Karg; Daughter, Lonn Mathews; Granddaughter, Heather Diana Mathews; Aunts and Uncles.