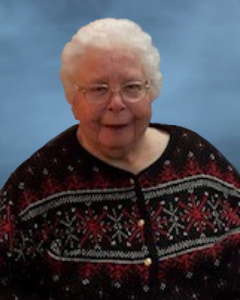 Service Information
Ruth Eleanor Kuenzel, age 88, of Lester Prairie, Minnesota, passed away on Monday, February 13, 2023, at Methodist Hospital in St. Louis Park, Minnesota.
Funeral Service will be held Friday, February 24, 2023, at 11:00 A.M. at St. Peter's Lutheran Church in Lester Prairie with interment in the church cemetery.
Visitation will be held from 9:30-11:00 A.M, one and a half hours prior to the service at the church.
Visitation/Gathering
St. Peter's Lutheran Church - Bergens
77 2nd Avenue S
Lester Prairie, MN
Service
St. Peter's Lutheran Church - Bergens
77 2nd Avenue S
Lester Prairie, MN
Funeral Chapel
Paul-McBride Funeral Chapel
23 Fir Street
Lester Prairie, MN 55354
Phone:(320) 864-3737
Cemetery
St. Peter's Cemetery (Lester Prairie)
Lester Prairie, MN
Obituary
Ruth Eleanor Kuenzel was born on July 7, 1934, the daughter of Herman and Bertha (Benkowski) Behning in Glencoe, Minnesota. She was baptized the same day she was born in the Lutheran faith. Ruth was confirmed in the Lutheran faith on May 7, 1947, at St. Peter's Lutheran Church in Lester Prairie. Ruth grew up outside of Plato and as a young child, her family moved to a farm west of Lester Prairie. She received her education at the country school nearest to her home and was a graduate of the Lester Prairie High School Class of 1952. In her younger years, Ruth worked at Alice Haney Nursing Home in housekeeping and was a nurse's aide.
On September 15, 1953, Ruth was united in marriage to Melvin Kuenzel. After their marriage, the couple resided in Lester Prairie. Ruth and Melvin were blessed with two sons, Kevin and Kent. They shared 18 years of marriage when Melvin was killed in a car accident on October 1, 1971. Ruth worked as a cleaning lady for McLeod County & Carver County Social Services and for Kenneth Paul at the funeral home in Lester Prairie.
Ruth was an active member of St. Peter's Lutheran Church in Lester Prairie and had a strong faith.
Ruth enjoyed traveling on family vacations in destinations within Minnesota such as Alexandria, Brainerd, and the North Shore of Lake Superior. She and her sons also traveled to Wisconsin, the Black Hills, Colorado, and New Mexico. Ruth enjoyed going on bus tours with her friends to Minnesota, Wisconsin, Iowa, Michigan, and other various areas throughout the country where there were tulip festivals. She enjoyed vegetable gardening, canning, art, pottery, embroidery, playing Bingo, and watching sports, especially the Minnesota Twins, Vikings, and Timberwolves. Ruth enjoyed listening and dancing to "old-time" music including waltzes and polka. She was very supportive of her children, cherished time spent with her grandchildren and loved her family pets, especially her grand-puppies, Charlie, Fonzie, and Apollo. After Ruth moved to Lake Minnetonka Shores in Spring Park, Minnesota, she grew fond of spending time by the lake and going on pontoon rides and fishing.

In 2008, when she needed assistance with her care, Ruth became a resident of Lake Minnetonka Shores, where she developed several great friendships with other residents and several staff members. She enjoyed playing bingo, spent countless hours embroidering, and she also enjoyed participating in staff-sponsored activities such as pottery and other art projects.
Ruth passed away on Monday, February 13, 2023, at Methodist Hospital in St. Louis Park at the age of 88 years. Blessed be her memory.
Ruth is survived by her:
Sons, Kevin Kuenzel and his wife, Dena of Shorewood, MN,
Kent Kuenzel and his wife, Julie of Andover, MN;
Grandchildren, Emilie Ward and her husband, Matt of Duluth, MN, Sarah Kuenzel of Shorewood, MN, Andrew and Isaac Kuenzel of Andover MN;
Great-Grandchild, Devin Kuenzel-Turner;
Sister, Marianne Breyer of Glencoe, MN;
Sister-in-law, Opal Schumacher of Mayer, MN;
Brother-in-law, Duane Kuenzel of Belle Fourche, SD;
Nieces, nephews other relatives and friends.
Ruth was preceded in death by her Parents, Herman and Bertha Behning; Husband, Melvin Kuenzel; Brother, Elmer (Betty) Behning; Sisters-in-law, Lyla (Hilton) Schwalbe, Evelyn Kuenzel in infancy; Brothers-in-law, Glen (Barb) Kuenzel, John (first wife, Della, second wife, Ann) Kuenzel, Ortwin (Jeanette) Kuenzel, Harold Breyer, Rueben Schumacher; Nephews, Roger Behning, Kerry Schumacher, Guy Schwalbe, Orlin Kuenzel, Faron Kuenzel; Father-in-law and Mother-in-law, Fred (first wife, Minnie, second wife, Hilma) Kuenzel.