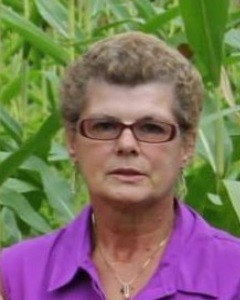 Service Information
Sandra Otto, age 64, of Hutchinson, formerly of Hector, passed away Thursday, February 26, 2015, at Abbott Northwestern Hospital in Minneapolis.
Funeral Service will be held Thursday, March 5, 2015, at 11:00 A.M. at St. Paul's Lutheran Church in Hector.
Visitation will be held Wednesday from 4:00 – 8:00 P.M. at the Hughes-Hantge Funeral Chapel in Hector, with a 7:45 P.M. Prayer Service.  Visitation will continue for one hour prior to the service at the church on Thursday.
Visitation/Gathering
Hughes-Hantge Chapel
311 Main Street South
Hector, MN
Website:hughes@hantge.com
Service
St. Paul's Lutheran Church
500 Cedar Avenue East
Hector, MN
Funeral Chapel
Hughes-Hantge Funeral Chapel
311 Main Street S.
Hector, MN 55342
Phone:(320) 848-6297
Cemetery
Hector City Cemetery
Renville County, Hector Township, Section 32
Hector, MN
Obituary
     Sandra Lea (Klause) Otto, lovingly known as Sam to her family and friends, was born May 30, 1950, in Redwood Falls, Minnesota, the daughter of Walter A. and Lila Shirley (Stancer) Klause.  She was baptized on June 22, 1950, at Trinity, Willow Lake – Bethlehem Church in Clements, Minnesota, and was confirmed in her faith at St. Paul's Lutheran Church in Hector as a youth.  Sandy grew up in Hector, and graduated with the Class of 1968 from the Hector High School.  
     Sandy worked at and retired from Communications Systems Incorporated., now known as Suttle, in Hector.  She moved to Hutchinson in 1995.
     On April 11, 1998, Sandy was united in marriage to James Otto at the Congregational United Church of Christ in Hutchinson.  They made their home in Lynn Township in McLeod County. 
     Sandy had a love for nature and the outdoors.  She loved to be in her flower garden every chance she could.  She grew wonderful plants and flowers, and could tell you the name of each one.  She loved to watch the wildlife around her home, and had a knack for attracting birds.  She could identify each of the birds that would visit her feeders. Sam really enjoyed going on vacations to somewhere warm. She liked to snorkel so she could view the colorful fish in the ocean.  She also tried scuba diving, and enjoyed it. Sandy had so many artistic abilities, as seen in her ceramics and lovely paintings. She had a love of antiquing and collecting, especially roosters, teapots, glass, Shirley Temple items, and whatever else that caught her eye that she just had to have. Sandy really loved quilting, and could quilt for hours on end! Every piece she made was done with love, and every piece she made was beautiful! Sam loved spending time with her kids, grandkids, family, and friends. 
     On Thursday morning, February 26, 2015, Sandy passed away at Abbott Northwestern Hospital in Minneapolis, having reached the age of 64 years, 8 months, 27 days.  Blessed be her memory.
     Sandy is survived by her: husband James Otto of Hutchinson; children: Lori Damlow and her husband Gary of Hutchinson, Terry Behm of Sartell, and Shane Schiebel of Hector; father-in-law and mother-in-law, Donald and Harriet Otto of Hutchinson; step-children: Jason Otto and his wife Kelly of Glencoe, Justin Otto of Hutchinson, and Janelle Baune and her husband Dustin of Hutchinson; grandchildren: Derek Moudry, Marcus Damlow, Dakota Damlow, Arianna Damlow, Garrett Damlow, Wyatt Damlow, Rogan Damlow, Jadin Otto, Javin Otto, Elyse Otto, Liam Baune; great-grandchildren Willow Stark and Hadley Hildebrandt; siblings: Wallis "Mike" Klause and his wife Arlyce of Willmar, Deb Weinhold and her husband Bill of Clarkfield, Barb Hillmann and her husband Garry of Buffalo Lake, Cindy Klause of Hector, Cheryl Schmalz and her husband Dale of Buffalo Lake, and Keith Klause of New Ulm; sisters-in-law: Nancy Kalenberg of Minneapolis, Janet Otto of Hutchinson, and Debi Heintz of Hutchinson; many other relatives and friends.
     Sandy was preceded in death by her parents, Wally and Shirley, and by her nephew, Jordan Hillmann.