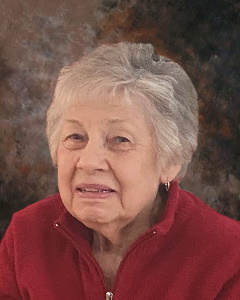 Service Information
Shirley A. Burmeister, age 84, of Hutchinson, Minnesota, passed away on Monday, October 3, 2022, at Havenwood of Maple Grove in Maple Grove, Minnesota.
Funeral Service will be held on Saturday, October 8, 2022, at 2:00 P.M. at Peace Lutheran Church in Hutchinson, with interment in the church cemetery.
Visitation will be held one hour prior to the service at the church.
Visitation/Gathering
Peace Lutheran Church
400 Franklin Street SW
Hutchinson, MN
Service
Peace Lutheran Church
400 Franklin Street SW
Hutchinson, MN
Funeral Chapel
Dobratz-Hantge Funeral Chapel
899 Highway 15 South
Hutchinson, MN 55350
Phone:(320) 587-2128
Cemetery
Peace Lutheran Cemetery (Hutchinson)
205th Drive
Hutchinson, MN
Obituary
Shirley Ann (Alsleben) Burmeister peacefully left this earth on Monday, October 3, 2022. Shirley was born on October 29, 1937 to Charles and Ella Alsleben in Glencoe, Minnesota. She was baptized at the Green Isle Lutheran Church and later confirmed at Peace Lutheran Church in Hutchinson. Shirley attended Country School District 73 and District 423 and also Hutchinson Vocational School. Shirley's first job was at Hotel Jorgenson as a waitress. She then worked at Strutwear Clothing in Glencoe and finished her career at 3M, retiring after 33 ½ years as a quality control inspector in 1997.
Shirley met her future husband Melvin Burmeister on a blind date set up by her brother. They married on November 24, 1956 and were blessed with 2 daughters, Tammy and Deb. Shirley loved to spend time outdoors working in the gardens, doing yard work, walking, biking, fishing, summers at Height of Land Lake in Detroit Lakes, and attended many We Fest festivals with her family. Shirley and Melvin enjoyed many casino trips with Shirley's brothers and sisters-in-law. Shirley's favorite TV shows were Judge Judy, Wheel of Fortune and anything on the Hallmark channel.
Shirley was a member of Peace Lutheran Church since the age of one. She volunteered her time as a Sunday school teacher, Dorcus Club member, quilting, mission sewing projects and baking many baked goods for bake sales and funerals. She was a giving person and always put others first.
Shirley was known for her baking skills. She made the best pies! There was always a yummy dessert in the house for Melvin and any guests. She was also known as a fabulous seamstress and laundress. She could get any stain out of any type of fabric – ask her daughters! She loved old time music and country music. She enjoyed crafting and made many seasonal decorations for friends and family. She especially treasured time spent with family.
Besides Melvin, she loved Kenny Rogers and was able to attend many of his concerts. A large cardboard Kenny was in attendance for many holidays.
Shirley was very appreciative toward God, her church, family and friends. She was grateful for good health most of her life. She was a wonderful caregiver to Melvin as his health declined. Shirley was the best Granny to her grandkids.
Shirley will be deeply missed by her daughters Tammy (Paul) Hahn and Deb (John) Sylvester. Grandchildren Jade (Patrick) Eaton, Jacob Hahn, Jenna Hahn, Anthony Sylvester and Kelsey Sylvester. The "in town kids" Brad and Judy Platz. Sisters-in-law Dorothy Alsleben, Elsie Alsleben and Beverly Alsleben. Many nieces, nephews and wonderful friends.
Preceded in death by her parents Charles and Ella Alsleben, her husband Melvin, her brothers Melvin (Mary) Alsleben, Earl Alsleben, Roy Alsleben, Ivan Alsleben, her sister Rosella Hanson (Bill and Vernon), her parents-in-law Emil and Alice Burmeister, her brother-in-law Vernon Burmeister (Lorraine), and her beloved grandson Brandon Lanie.