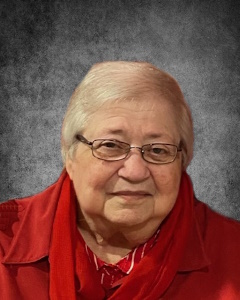 Service Information
Shirley Ann Duesterhoeft, age 84, of Hutchinson, Minnesota, passed away on Friday, July 21, 2023, at Harmony River Living Center in Hutchinson.
Private Family Memorial Service will be held.
Funeral Chapel
Dobratz-Hantge Funeral Chapel
899 Highway 15 South
Hutchinson, MN 55350
Phone:(320) 587-2128
Obituary
Shirley Ann Duesterhoeft was born on March 25, 1939 in Springfield, Minnesota. She was the daughter of Arthur and Viola (Green) Pautzke. Shirley was baptized as an infant and later confirmed in her faith as a youth. She received her education in Hutchinson, Minnesota, and graduated with the Hutchinson High School class of 1959.
On October 8, 1961, Shirley was united in marriage to Eugene Duesterhoeft at Our Savior's Lutheran Church in Excelsior, MN. This marriage was blessed with four children, Lori, Carrie Ann, Vicki, and Scott. Eugene and Shirley resided in Hutchinson during their 61 years of marriage.
Shirley spent most of her adult life working at Hutchinson Community Hospital first as a nursing assistant. Then after her children were grown, she fulfilled her dream of going back to school and becoming an LPN nurse. She loved working in the nursery with the newborn babies and tenderly rocked hundreds of children to sleep over her 30 plus years at the hospital. She truly enjoyed her co-workers and remained friends with many of them long after she retired.
Shirley and Eugene cherished taking their family across the United States for their family vacations. As with most things in their life, things never went as planned, as luck was never on their side. It didn't matter – they had fun! Whether their vacations were hundreds of miles away or just miles down the road, they created lifelong memories, shared amazing laughs and instilled in their children a zest for life and adventure.
Shirley valued every gift ever given to her and every letter or card she ever received. They were more than a gift or card – they held a story or a memory. She also had many passions. In her younger years, she sewed, cross-stitched and crocheted lovingly so many gifts for her family and friends. Shirley and Eugene had a passion for the holidays, which was evident with the never-ending glow of all the decorations they treasured and a welcoming seat at their table for anyone who was alone on the holidays. In later years, Shirley had a love and affinity for the "wild" animals that she came to love at Pine Grove Zoo. Of all the animals, the kangaroos stole her heart.
The center of Shirley's life was her husband and family. She treasured sharing time with them as often as she could and would do anything for them. The love and pride she had for her family was evident every time she spoke of them to others. Shirley had a huge place in her heart and love for furry friends, which was evident with how many fur babies were part of their lives over the years. They always made room for "one more" that needed a home. Each and every furry friend was truly loved!
Blessed be her memory.