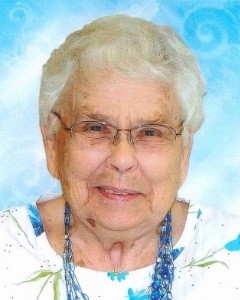 Service Information
Stella "Estelle" Lee, age 88, of Buffalo Lake, Minnesota, passed away Sunday, December 11, 2016, at the Buffalo Lake Healthcare Center.  
Memorial Service will be held at a later date.
Funeral Chapel
Hughes-Hantge Funeral Chapel
311 Main Street S.
Hector, MN 55342
Phone:(320) 848-6297
Obituary
Stella "Estelle" Lee was born October 7, 1928 to Herman and Gwyneath Butze at Park Rapids, Minnesota. Most of her young life was lived in northern Minnesota. In 1943, the family moved to Moorhead, Minnesota where she attended high school. Estelle worked in a drug store four years until her graduation.
On June 6, 1947, Estelle was united in marriage to Earl "Philip" Lee in Mora, Minnesota. They lived in the Grand Rapids, Minnesota, area until making their home in LeSueur. While raising their four children, Estelle worked at various jobs, as an office worker, in a factory, bakery, and as a nurses aid. She then became employed with the Social Services Department in LeSueur, and eventually became the Family Service Coordinator. After 20 years with the Social Services Department, Estelle and Phil retired in 1989. They sold their home and possessions and traveled in their motor home for over two years. They often were able to go to and camp at the ocean. In 1991 they bought a home in the retirement community of Ryderwood, Washington, a place they thought to be the most beautiful place in the world. In 2001, due to Phil's health, they moved back to Minnesota and settled in Buffalo Lake to be closer to family. Phil passed away June 4, 2007, two days before their 60th wedding anniversary.
Estelle was a member of the Methodist church, VFW Auxiliary, and Rebekah Lodge. She and Phil were members of the Roliters Camping Club for 20 years. Estelle enjoyed making many crafts to both sell and give away. She continued writing to their many friends made during her lifetime. She always said it was to keep the Post Office in business.
Early Sunday morning, December 11, 2016, Estelle passed away at the Buffalo Lake Healthcare Center, having reached the age of 88 years. Blessed be her memory.
Estelle is survived by her:
Children: Virginia Wacker and her husband Harold of Madelia, Minnesota,
               Linda Knauss of Waseca, Minnesota,
               Roger Lee of Eatonville, Washington,
               Rev. Douglas Lee and his wife Linda of Callicoon, New York;
13 grandchildren; 29 great-grandchildren; 2 great-great-grandchildren;
brother-in-law Carl Roder of Moorhead, Minnesota;
sister-in-law Anna Lee Wiscarson of Washington;
Other relatives, and friends.
Estelle was preceded in death by her parents, step-dad Harry Langfeldt, husband Phil, son-in-law Neil Knauss, daughter-in-law Mary Lee, sisters Pearl and Dolores Roder, brothers Elmer Butze, Marvin Butze, and John Wiscarson.