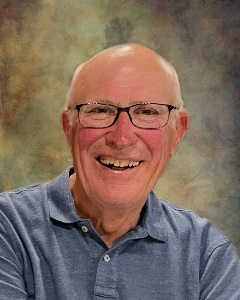 Service Information
Steven G. Petersen, husband of Sharon, age 80, of Hutchinson, Minnesota, died on Friday, November 3, 2023, at Cokato Manor, in Cokato, Minnesota.
A Celebration of Life in Christ will be held on Monday, November 13, 2023, 10:30 A.M., at Christ the King Lutheran Church in Hutchinson, with interment in St. Paul's Lutheran Church Cemetery in Hector, Minnesota.
Gathering of Family and Friends will be held from 9:00-10:30 A.M., one and a half hours prior to the service at the church.
Memorials Preferred.
Military Honors by Carl O. Potter American Legion Post 135 of Hector.
Visitation/Gathering
Christ The King Lutheran Church
1040 South Grade Road
Hutchinson, MN
Service
Christ The King Lutheran Church
1040 South Grade Road
Hutchinson, MN
Funeral Chapel
Dobratz-Hantge Funeral Chapel
899 Highway 15 South
Hutchinson, MN 55350
Phone:(320) 587-2128
Cemetery
St. Paul's Lutheran Cemetery (Hector)
Hector, MN
Obituary
Steven George Petersen was born in Hutchinson, MN, on May 31, 1943, to parents George and Enola (Hoecke) Petersen. He was baptized at St. John's Lutheran in Cedar Mills, MN, as an infant and later confirmed his faith at Trinity Lutheran Church in Brookfield Township. Steven completed his education in Hector, MN, and proudly graduated from Hector High School in the class of 1961.
On April 8, 1967, Steven and Sharon Berwald joined their lives in matrimony at EUB Church in Hutchinson, MN. Their union was graced with three children: Shelly, Debra, and Paul. They celebrated 56 years of marriage, embracing the joys and challenges of life together.
In 1963, Steven answered the call to duty and enlisted in the Army National Guard, ultimately achieving the rank of Staff Sergeant. Professionally, he contributed to Witte Ford in Hector and served as the Plant Manager for Tuloma Fertilizer, which later evolved into Standard Oil Fertilizer in Hector, MN.
In 1978, the Petersen family embarked on a new chapter, relocating to Steve's parents' farm near Cosmos, MN, where they dedicated themselves to farming until 2007. Throughout his life, Steven was an active member of St. Paul's Lutheran Church in Hector, providing 55 years of dedicated service on the church council. He also lent his expertise to the Union Oil board, Hector Farmers Elevator board, and the Brookfield Township board.
Steve and Sharon decided to make Hutchinson their home in 2022, and in their leisure, they found joy in camping, playing cards, traveling, and cheering on local sports teams, particularly the Twins and Vikings. Their shared adventures took them on over thirty cruises and tours, exploring destinations like Europe, Costa Rica, New Zealand, South America and many Caribbean Islands.
However, Steve's deepest happiness came from spending time with his cherished family and friends. On November 3, 2023, at the age of 80, Steven passed away at Cokato Manor, leaving behind a legacy of love and fond memories.
Steven is survived by his loving wife, Sharon, as well as his children: Shelly of Willmar, MN; Debra and her husband, Jesse Robertson of St. Bonifacius, MN; and Paul and his wife, Lindsay, of Maple Grove, MN. He also leaves behind his beloved grandchildren: Nicole and Sara Robertson and Nathan and Hailey Petersen. His sister, Dianne Runke of Buffalo Lake, MN, and sisters and brothers-in-law, Bev and Mike Wangerin of Hutchinson, MN, and Shirley and Russell Kronbeck of Litchfield, MN, join in mourning his passing, along with numerous nieces, nephews, relatives, and friends.
Steven was preceded in death by his parents, George and Enola Petersen, as well as Sharon's parents, Elmer and Gladys Berwald, and his brother-in-law, Dennis Runke.