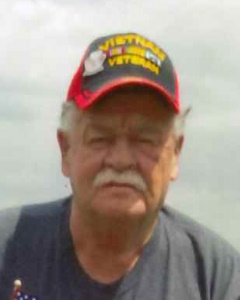 Service Information
Steven "Steve" Lee Jensen, age 74, of Hutchinson, Minnesota, passed away on Tuesday, October 24, 2023, at Hutchinson Health in Hutchinson.
Gathering of Family and Friends will be held Wednesday, November 15, 2023, from 5:00 - 8:00 P.M., at Dobratz-Hantge Funeral Chapel in Hutchinson. There will be a DAV Prayer Service at 7:00 P.M.
Interment will be in Fort Snelling National Cemetery in Minneapolis, Minnesota, at a later date.
Visitation/Gathering
Dobratz-Hantge Chapel
899 Highway 15 South
Hutchinson, MN
Website:hantge.com
Funeral Chapel
Dobratz-Hantge Funeral Chapel
899 Highway 15 South
Hutchinson, MN 55350
Phone:(320) 587-2128
Cemetery
Fort Snelling National Cemetery
7601 34th Avenue S
Minneapolis, MN
Obituary
Steven "Puck" Lee Jensen was born on April 19, 1949, Hutchinson, Minnesota. He was the son of Alvin "Shorty" Jensen and Mildred (Lemke) Jensen. Steven was baptized as an infant on May 26, 1949, and later confirmed in his faith as a youth on May 16, 1965, both at Faith Lutheran Church in Hutchinson. He attended Hutchinson Schools and graduated in Senior Class of 1968, he played in football, hockey, basketball through his high school years.
Steven was working for Lesters after high school when he got a call from his mother that he was selected for the U.S. Army, and entered in the service on March 13,1969. He was assigned to B Company, American Division in Chu Lai, Vietnam for five months, he volunteered for the Recon Unit and served with the 4/21 Reconnaissance Platoon as a Senior Vice Commander and was wounded on July 11, 1970, and was awarded the Purple Heart.
After the military he worked for a few years with his father doing carpentry work and building houses with him. He also worked in the past with Bob Brandt doing block and brick work, Terwisscha Construction as a Block Mason, and last at 3M.
Steve enjoyed bowling, snowmobiling and was an avid sportsman loving fishing and hunting, especially deer hunting. He also loved classic cars an attended many car shows and was a member of the GasHoles Car Club. Steve also was a member and served as a Commander at the VFW Post 906 year 1987-1988, American Legion Post #96, DAV (Disabled American Veterans), and enjoyed spending time with his friends and family.
Steven passed away on Tuesday, October 24, 2023 at Hutchinson Health Hospital at the age of 74 years.
Steve is survived by his sisters Sherry Sievers, Lucinda Lee, Lori Jensen along with his nephews Rick and Randy Hatcher, Jason and Justin Wright and niece Nicole Krasean.
The family would like to thank Hutchinson Health Hospital for the care and compassion they showed Steve in his final hours.