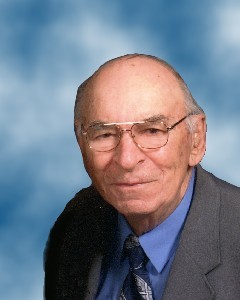 Service Information
Sylvester "Buddy" Gerardy age 91, of Fairfax, passed away Friday, December 4th, 2015, at the Fairfax Community Home in Fairfax.
Mass of Christian Burial will be Friday, December 11th, 11:00 A.M. at St. Andrew's Catholic Church in Fairfax with interment in the church cemetery.
Visitation will be Thursday, December 10th, from 4:00 P.M.-7:00 P.M. at St. Andrew's Catholic Church in Fairfax. There will be a Prayer Service at 4:00 P.M. Thursday. Visitation will continue one hour prior to the service at the church on Friday.
Military Honors by the Fairfax Honor Guard.
Visitation/Gathering
St. Andrew's Catholic Church
15 SE 1st Street
Fairfax, MN
Service
St. Andrew's Catholic Church
15 SE 1st Street
Fairfax, MN
Funeral Chapel
Hauser-Hantge Funeral Chapel
601 South Park Street
Fairfax, MN 55332
Phone:(507) 426-7274
Cemetery
St. Andrews Catholic Cemetery (Cairo Twp)
Cairo Township, rural Fairfax, Renville County, MN
Fairfax, MN
Obituary
Sylvester "Buddy" Nicholas Gerardy was born on October 31, 1924, in Cairo Township, Renville County, Minnesota. He was the son of Albert and Philomena (Pfeffer) Gerardy. Buddy was baptized as an infant and was later confirmed in his faith as a youth. He received his education at country school.
Buddy was a World War II veteran.  He entered active military service on February 27, 1945 and served in Hawaii and the Pacific in the United States Army.  He received the Asiatic Pacific Theater Ribbon, the Victory Medal and the Good Conduct Medal.  Buddy was Honorably Discharged on November 7, 1946.  He was very proud to be a veteran.  A highlight for him was flying to Washington DC on the Honor Flight for WWII veterans.
On June 7, 1949, Buddy was united in marriage to Arlene Traurig at St. George Catholic Church in St. George, Minnesota. After their marriage, the couple farmed in Cairo Township, Renville County. In 1986, they moved into Fairfax. Buddy was employed with the City of Fairfax, retiring in 2009, at the age of 86. This union was blessed with three children. Sylvester and Arlene shared 65 years of marriage before Arlene passed away on April 22, 2015.
Buddy was a member of St. Andrew's Catholic Church in Fairfax, Knights of Columbus, member and past Post Commander of the VFW Post #8459 in Fairfax and a member of the Honor Guard.
Buddy loved spending time with his family especially his grandchildren and great grandchildren.  He enjoyed family get togethers at the lakes in Lake Park and Park Rapids. Until 86, he could be seen around Fairfax mowing lawn for the city. Buddy loved farm life, driving around the countryside looking at the fields and farms, John Deere tractors, Ford trucks and polka music.
In 2013, the couple moved into the Countryview Estates in Fairfax. Buddy became a resident of the Fairfax Community Home and passed away there on Friday, December 4, 2015, at the age of 91 years. Blessed be his memory.
Buddy is survived by his:
Children,                Deanna Germain and her husband, David of Blaine, MN,
                                Patricia Becker and her husband, William of Lake Park, MN, and
                                Nancy Sonnek and her husband, Patrick of Gibbon, MN;
Grandchildren, Laura Germain-Laaraj and her husband Abdul, Amy Becker, Anna Becker;
Great-Grandchildren, Yasmine Laaraj and Salma Laaraj;
Brother, Charles Gerardy of Fairfax, MN;
Sister-In-Law, Marian Petterson;
Nieces, Nephews, other relatives and friends.
Buddy was preceded in death by his parents, Albert and Philomena Gerardy; Wife, Arlene Gerardy; Sisters, Lucille Miklos, Delores Miklos, Violet Berle, Helen Moore, Corinne Gerardy, Mary Ann Bonacci and Janet Palmer; Brothers, LeRoy Gerardy (in infancy), and David Gerardy.