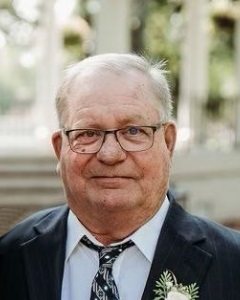 Service Information
Theodore "Ted" Case, age 67, of Fairfax passed away Monday, May 29, 2023, at his home in Fairfax.
Mass of Christian Burial will be Monday, June 5, 2023, 11:00 A.M. at St. Andrew's Catholic Church in Fairfax with interment in St. Patrick's  Cemetery, Birch Cooley Township, Renville County, Minnesota.
Gathering of Family and Friends will be from 9:30 A.M.-11:00 A.M., ALL at the church.
Memorials preferred to Duck Cup Memorial at: https://www.duckcupmemorial.org/
Visitation/Gathering
St. Andrew's Catholic Church
15 SE 1st Street
Fairfax, MN
Service
St. Andrew's Catholic Church
15 SE 1st Street
Fairfax, MN
Funeral Chapel
Hauser-Hantge Funeral Chapel
601 South Park Street
Fairfax, MN 55332
Phone:(507) 426-7274
Cemetery
St. Patricks Cemetery(Birch Cooley Twp)
Birch Cooley Township, rural Franklin, Renville County
Birch Cooley Twp, MN
Obituary
Theodore "Ted" Michael Case was born on October 13, 1955, in Sleepy Eye, Minnesota. He was the son of Robert and Donna (Kemkes) Case. Ted was baptized as an infant and was later confirmed in his faith as a youth, both at St. Andrew's Catholic Church in Fairfax. He received his education in Fairfax and was a graduate of the Fairfax High School Class of 1973. Ted furthered his education at Willmar Vo-Tech and earned his Associates Degree in Agri-Business.
Ted lived in Stanton, Nebraska, for several years, and most recently Fairfax, Minnesota. He also resided in various other locations in Minnesota and North Dakota. Ted was employed in the agronomy field for many years.  When he retired, he enjoyed doing various jobs within his employment with the City of Fairfax.
Ted enjoyed spending time with his dog, Nicki, his cat, Otis, mowing lawn, drinking a beer and cheering for the Minnesota Vikings. He cherished the time he spent with his children and grandchildren and he loved when his house was filled with the whole family.
Ted passed away on Monday, May 29, 2023, at his home in Fairfax at the age of 67 years. Blessed be his memory.
Ted is survived by his:
Children,          Ranae Case Evenson (Travis),
                        Cory Case-Lentz (Jason),
                        Patrick Case-Bemmels (Matt),
                        Austin Case (Megan);
Step children,   Bo Qualls (Victoria),  Brian Qualls;
Grandchildren, MacKenna Fredericksen (Cole), Parker Evenson, Dominic Evenson;
Step grandchildren, Kennady Qualls, Kaisyn Qualls;
Sister, Peggy Louisiana (Ron);
Brother, John Case (Rose);
Sister-in-law, Paula Case;
Aunt, Gloria Kemkes;
Mothers of his children, Ronda Bemmels Hess and Lisa Habeck;
Mother of his step-children, Pam Case;
Nieces, nephews, other relatives and friends.
Ted was preceded in death by his Parents, Robert and Donna Case; Brother, Tom Case; Great-grandchildren, August and Ainsley Fredericksen.