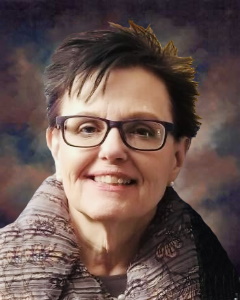 Service Information
Theone "Toni" Maresch-Babatz, age 64, of Hector, Minnesota, passed away on Monday, August 29, 2022, at her home.
Gathering of Family and Friends will be held on Saturday, September 17, 2022, from 10:30 A.M. to 1:30 P.M. with a Prayer Service at 11:00 A.M. at Hughes-Hantge Funeral Chapel in Hector.
Funeral Chapel
Hughes-Hantge Funeral Chapel
311 Main Street S.
Hector, MN 55342
Phone:(320) 848-6297
Obituary
Theone "Toni" Maresch-Babatz passed on to heaven Monday August 29, 2022. She was born in Browerville, MN September 15,1957 to Arvid and Janice Ward. She lived in Clarissa until the age of three, when her family moved to Hector, MN where she spent the remainder of her childhood. As an adult she had always lived in the SW Metro until recently. Last fall she had moved back into her childhood home in Hector.
Throughout her career Toni always had various leadership positions such as Property Manager, Retail Manager and Area Manager. If you haven't noticed, there is a common theme here. She always wanted to be in charge.
When Toni liked something, you knew it. She was all in. She had a big heart. This was most visible in her love for her grandchildren. Countless sleepovers, tea parties, big gifts, weekend getaways and always willing to help them out whenever needed. She was also a big animal lover. This was evident with her own animals, but also with all animals. She donated time and money to help and find homes for many pets in need over the years. Other notable things that will always be remembered about her was her love of reading. She always had a book with her. She loved unsweetened iced tea. She always ate with her fingers. She would order an appetizer, a meal and a dessert and would not finish any of them. She loved, loved shopping. Some might say it was an addiction.
Toni always had a close relationship with Jesus Christ throughout her life's journey. Once the writing was on the wall and she knew her time on earth was coming to an end she was excited to go to heaven, meet the Lord, and be reunited with loved ones that had passed.
We are thankful you are no longer in pain, but we will miss you every day until we see you again.
Toni is survived by her loving Husband Brian Babatz, Amazing children Patrick (Connie) Maresch, Nathan (Teddy) Maresch, and Cassie (Trevor) Maresch-Kiecker. Sister Tami (Dave) Henning. Grandchildren Devin, Hannah , Sawyer, Jackson, Theone, Sullivan, Stella, and Arvid. Many nieces and nephews. Also, her fur and furless babies: Mini, Baby Girl, Max, Nala, Sophie, Ivy, and Ike.
Preceded in death by her parents Arvid and Janice Ward, mother-in-law Beverly Babatz, sister and brother-in-law Teri and Tiny Chermak, nephew Tylor Chermak, and grandson Tristan Maresch.