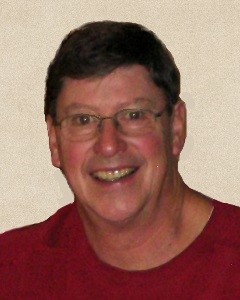 Service Information
Thomas Doll, age 71, of rural Darwin, passed away Monday, November 28, 2016, at his home at Lake Stella.
Funeral Services will be held Saturday, December 3, 2016, at 11:00 A.M. at St. John's Catholic Church in Darwin, with interment in Wildwood Cemetery in Wheaton, Minnesota.
Visitation will be held Friday, December 2, 2016, from 5:00-7:00 P.M. at St. John's Catholic Church and will continue one hour prior to the service on Saturday. 
There will be Parish Prayers on Friday at 7:00 P.M. at the church. 
Military Honors by the Litchfield Veterans Memorial Honor Squad.
Visitation/Gathering
St. John's Catholic Church
106 N 4th Street
Darwin, MN
Service
St. John's Catholic Church
106 N 4th Street
Darwin, MN
Funeral Chapel
Hantge Funeral Chapel
100 First Street
Darwin, MN 55324
Phone:(320) 693-8710
Cemetery
Obituary
Thomas was born on January 28, 1945, in Wheaton, Minnesota. He was the son of Andrew and Sylvia (Meyer) Doll.  Tom was baptized on February 18, 1945, at Ava Marie Catholic Church in Wheaton, Minnesota, and was confirmed at St. John's Catholic Church in Rosholt, South Dakota.   He attended elementary school in Wheaton, and then went to country school District #14 north of Wheaton.  Tom's parents moved to Rosholt, in 1959, and he graduated from Rosholt High School in 1964.  Tom attended Humboldt Institute in Minneapolis, Minnesota after graduation.  
In 1965, he joined the Naval Air Reserves and was a plane captain in an aircraft fighter squadron. He entered active military service and received an Honorable Discharge in May of 1971.  
Tom married his high school sweetheart Lavonne (Lupkes) Doll in Wheaton, May 28, 1966.  They were blessed with three children: Alan Thomas, Mitchell Jon and Renae Lin.  They lived for more than 30 years in Shakopee, Minnesota, where they made many life-long friends.  Tom was a member of St. Mark's Catholic Church in Shakopee for over 30 years.  With their Shakopee friends, the family enjoyed camping, hunting, snowmobiling and playing cards.  Tom played basketball until his late 30's and coached Alan's basketball team for six years.  He loved to hunt and his nickname in high school was "Gunner".   Tom and Lavonne moved to Lake Stella near Darwin, Minnesota in 2001.  Tom retired in 2000, at the age of 55 to help build their home on Lake Stella.  He was a member of the Lake Stella Association, the Darwin Lions Club and the Wheaton American Legion Post #0080.  
Tom worked for Flame Industries, Inc. (Metal Heat Treating Division) in St. Louis Park from 1965 thru 1977, Flame Industries, Inc. (Products Division), as plant manager of manufacturing oil well pipe from 1977 thru 1983, and the Longyear Company in Minneapolis from 1983 thru 1986.   He was Plant Manager of Quartz Incorporated Company in Mound, Minnesota.  Then in 1991 thru 1993 he started his own company called T & M Enterprises, and Tree Toad, a company manufacturing tree moving equipment.  He retired in 2000, from Commercial Asphalt where he worked in electrical maintenance.  
Tom is survived by his: Wife,  Lavonne Doll of rural Darwin, MN; Son, Alan (Michelle) Doll of Laguna Vista, TX;  Daughter, Renae Kane of Prior Lake, MN:  Grandchildren: Damon Doll, Kaitlin Kane, and Luke Kane;  Sister, Mary (David) Sand of Buffalo, MN;  Sisters-In-Law, Wanda Doll of Puyullup, WA; Bonnie Doll of Fargo ND,  Kathleen (Daniel) Wagner of Elk River, MN; Katherine Rabel of California,  Janel (Curt) Reiter of Darwin, MN, Linette Lupkes of Anchorage, Alaska; Doreen (Thomas) Sherwood of Caldwell, Idaho;  Jone (Doyle) Anderson of Morris, MN,  Cheryl (Glenn) Garcia of Honolulu, Hawaii, Dawn Julson of Wheaton, MN; Joetta (Todd) Schmitz of Wheaton, MN;  and Jacqueline (Bruce) Strader of Wheaton, MN; Brother-in-law; Lyle Lupkes of Wheaton, MN; Nieces and Nephews, many other relatives and friends.  
Tom is preceded in death by his beloved five month old son Mitchell Jon Doll; Parents, Andrew and Sylvia Doll; Parents-In-Law, George and Dorothy Lupkes;   Brothers, Eugene (Teri) Doll, Chester (Florence) Doll, Leland Doll, Robert Doll and Jerome Doll; Brother-in-law Victor Rabel.