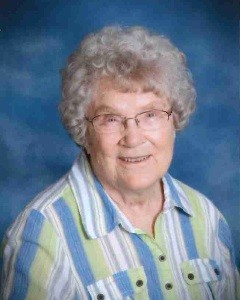 Service Information
Verona Schmidt, age 86, of New Ulm, formerly of Hutchinson, passed away on Saturday, April 9, 2016, at Woodstone Senior Living in New Ulm.
Funeral Services will be held Wednesday, April 13, 2016, at 11:00 A.M., at Immanuel Lutheran Church in Acoma Township, McLeod County, Minnesota, with interment at Parish Cemetery in Acoma Township.
Visitation will be Tuesday, from 5:00-8:00 P.M. at Dobratz-Hantge Funeral Chapel in Hutchinson, and will continue one hour prior to the service at the church.
Funeral Chapel
Dobratz-Hantge Funeral Chapel
899 Highway 15 South
Hutchinson, MN 55350
Phone:(320) 587-2128
Obituary
Verona Elsa Schmidt was born on May 9, 1929, in Glencoe, Minnesota. She was the daughter of Ben and Ida (Oltman) Bandemer. Verona was baptized as an infant, and was later confirmed in her faith as a youth, both at First Lutheran Church in Glencoe, Minnesota.
On November 15, 1951, Verona was united in marriage to Walter Schmidt, at First Lutheran Church in Glencoe. This marriage was blessed with three children, Colleen, Jan, and Jon. Verona and Walter resided and farmed in rural Hutch for many years before she moved to town in Hutchinson in 1981. They shared 28 years of marriage until Walter passed away on November 10, 1979.
In addition to being a farm wife, Verona was employed as a dietary aide at the Hutchinson Hospital for 17 years until she retired. Verona was a member of Immanuel Lutheran Church in Acoma Township, where she was involved with the ladies aide and other activities for many years.
Verona enjoyed going out to eat with friends. She enjoyed fishing and watching all sports on TV. She especially cherished spending time with her family, grandchildren and friends.
When Verona needed help with her daily care, she became a resident at Woodstone Senior Living Center in New Ulm. She passed away there on Saturday, April 9, 2016, at the age of 86 years.
Blessed be her memory.
Verona is survived by her:
Children, Colleen Hilbert and her husband, Darrell of New Ulm, MN,
                  Jan Schmidt and his wife, Cheri of Stewart, MN,
                 Jon Schmidt and his special friend, Julie of Hutchinson, MN;
Grandchildren, Nate Hilbert, Erin Strenge, Nick Stoll, Misty Hickle, Amanda Olmscheid, Robert Schmidt, Josh Schmidt, Jake Schmidt;
Great Grandchildren, Shylo Hilbert, Bennett Strenge and William Strenge, Mason Hickle, Caden Hickle, Carson Hickle, Jayelynn Schmidt, Jazlynn Schmidt, Jordan Schmidt, Devean Donnay, Emma Olmscheid, Cody Stoll, Shyanna Stoll, Jackson Schmidt, Whitney Schmidt, Gavin Schmidt;
Brother, Elton Bandemer and his wife, Lorraine of Plato, MN;
Verona is preceded in death by her Parents, Ben and Ida Bandemer; Husband, Walter Schmidt; Brother Marvin Bandemer.