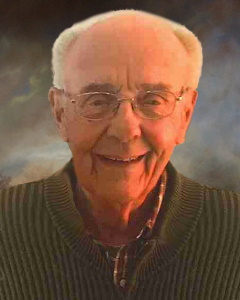 Service Information
Victor "Vic" Proeschel, age 86, of Glencoe, Minnesota, passed away Friday, November 4th, 2022, at GlenFields Living With Care in Glencoe, Minnesota.
Memorial Service will be held Saturday, November 12, 2022, 11:00 A.M., at Good Shepherd Lutheran Church in Glencoe, Minnesota, with interment following at the Glencoe City Cemetery in Glencoe.
Gathering of Family & Friends will be held Saturday, November 12, 2022, 10:00 – 11:00 A.M., one hour prior to the service at the church.
Military Honors by the Glencoe Military Honor Guard.
Visitation/Gathering
Good Shepherd Lutheran Church
1407 Cedar Avenue N
Glencoe, MN
Service
Good Shepherd Lutheran Church
1407 Cedar Avenue N
Glencoe, MN
Funeral Chapel
Johnson-McBride Funeral Chapel
1222 Hennepin Avenue
Glencoe, MN 55336
Phone:(320) 864-3737
Cemetery
Glencoe City Cemetery
301 Chandler Ave. N
Glencoe, MN
Obituary
Victor "Vic" David Proeschel was born on July 25, 1936, in Austin, Minnesota to Oscar and Anna (Hanken) Proeschel. Victor was baptized and confirmed at Trinity Lutheran Church in Dexter Township, Mower County, Minnesota. He received his education in Austin and graduated from Austin High School with the Class of 1954. He was an active member of the FFA throughout the years. He continued his education at the University of Minnesota, St. Paul Campus, and graduated in 1964 with a Bachelor's Degree in Agriculture Business.   
On December 21, 1960, Private Victor Proeschel entered active duty serving in the United States Army National Guard. He was awarded a Marksman (Rifle M-1) badge upon successful completion of weapons qualification. He received an Honorable Discharge on December 20, 1966.
Throughout high school, Vic worked for the Holst Brothers, raising purebred Hampshire Hogs. The Hormel Foundation awarded Vic one Duroc, which says he has marked 63 hogs. After graduating college, Victor joined the Seventh District Farm Credit System. He became a loan officer for the FLBA of Buffalo. In 1966, he was promoted to assistant manager of the FLBA of  Glencoe and later named the branch manager. On June 1, 1983, Vic was named president of the FLBA of Glencoe by the Association's Board of Directors. After a successful career, he retired from Farm Credit Services in January 1993.
On July 30, 1960, Vic was united in marriage to Saundra Barnes at Brownsdale Methodist Church in Brownsdale, MN. They made their home in Austin, MN, and later moved to Glencoe, MN. Their marriage was blessed with one child, Amy. The couple shared 62 years of marriage together.
Vic was an active member of Good Shepherd Church in Glencoe, Minnesota. He enjoyed caring for his gardens; growing sunflowers that were twice his height. Vic enjoyed woodworking as well, building birdhouses to place around his gardens. He was grateful for the opportunity to travel the country with his family. Victor cherished spending time with his family and his friends.
Victor passed away on Friday, November 4, 2022, at the age of 86 at GlenFields Living With Care in Glencoe. Blessed be his memory.
Victor is survived by his:
Wife, Saundra Proeschel of Glencoe, MN;
Daughter, Amy Schmidt, and her significant other, Jim Tesch, of Silver Lake, MN;
Step-Grandchildren, Jake and Joshua Schmidt and their families;
Sister-in-law, Gloria Raasch and her husband, Ronald;
Nieces, Nephews, Other Relatives, and Friends.
Victor was preceded in death by his parents, Oscar and Anna Proeschel; Father-in-law and Mother-in-law, Charles and Marion Barnes; Brother, Marvin Proeschel and his wife, DeVera; Sister, Mae Schroeder and her husband, Robert; Niece, Heidi Raasch Oquist.