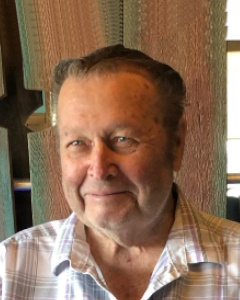 Service Information
Vincent John Forcier, age 82, of Hutchinson, Minnesota, passed away on Saturday, September 30, 2023, at Harmony River Living Center in Hutchinson.
Mass of Christian Burial will be held Tuesday, October 10, 2023, at 11:00 A.M. at St. Anastasia Catholic Church in Hutchinson, with interment in the church cemetery.
Visitation will be held Monday, October 9, 2023, from 5:00-7:00 P.M. at Dobratz-Hantge Funeral Chapel in Hutchinson, with a Prayer Service beginning at 6:30 P.M. Visitation will continue Tuesday, October 10, 2023, from 10:00-11:00 A.M., one hour prior to the service at St. Anastasia Catholic Church in Hutchinson.
Visitation/Gathering
Dobratz-Hantge Chapel
899 Highway 15 South
Hutchinson, MN
Website:hantge.com
Service
St. Anastasia Catholic Church
460 Lake Street South
Hutchinson, MN
Funeral Chapel
Dobratz-Hantge Funeral Chapel
899 Highway 15 South
Hutchinson, MN 55350
Phone:(320) 587-2128
Cemetery
St. Anastasia Catholic Cemetery (Hutchinson)
Hwy 15 N.
Hutchinson, MN
Obituary
Vincent John Forcier was born on May 8, 1941, in Montrose, Minnesota. He was the son of Francis and Veronica (Krippner) Forcier. Vincent was one of seven children, and the first of them to leave this Earth. He was baptized as an infant and later confirmed in his Catholic faith as a youth. Vincent received his education in Hutchinson, Minnesota, and was a graduate of the Hutchinson High School Class of 1959.
Vincent entered active military service in the United States Army on June 23, 1959, and received an Honorable Discharge on June 22, 1962. He achieved the rank of Specialist 4th Class. Vincent spent about a year in Korea after the war. His time there held some of his favorite memories. One of his favorites that he loved to share was that on his way to Korea, his military plane stopped at Hickam Air Force Base on the island of Oahu to refuel. Vincent vowed to return one day and see the islands for himself. Fifty years later, he returned for that long-held wish, with his daughter, Susan, son-in-law, Paul, and granddaughter, Taylor.
On November 7, 1964, Vincent was united in marriage to Marion Wendorff at St. Anastasia Catholic Church in Hutchinson. Soon after their marriage, Vincent adopted Lisa, who was two years old at the time of their wedding. They became "three" and that was the start of their family. Along with Lisa, they had two more children, Michael and Susan. Vincent and Marion made their home in Hutchinson. They shared 44 years of marriage until Marion passed away on April 22, 2009.
Vincent worked a variety of jobs before starting his career at Goebel Fixture Company in Hutchinson, which started his lifelong love of all things wood related. He spent 34 years at Goebel's as a cabinet maker before retiring in 2003. Vincent was a member of St. Anastasia Catholic Church in Hutchinson.
As a young family, they enjoyed foraging for asparagus and spending an annual week at Ruth Lake Resort in Emily, Minnesota, first with their children and later with their grandchildren. Fishing with his wife and children, and hunting with his wife and son, as well as his brothers, brothers-in-law, and nephews were hobbies that Vincent enjoyed for decades. Many meals were provided from these pastimes.
Over the years, Vincent became a true wood artist. He built all of the cabinets in their home on Oak Street, along with many pieces of furniture that are still in use today. Vincent made and gifted to his children and grandchildren coffee tables, widow benches, jewelry armoires, rocking horses, wooden cars and vehicles that has actual moving parts. Later on, he began wood turning and made the most beautiful bowls that his children use every day. The last few years of Vincent's life became difficult for him because he was no longer able to work in his beloved workshop.
In addition to his travels to Hawaii and Ruth Lake Resort, Vincent also spent several wonderful vacations with Marion in a condo in Clearwater Beach, Florida for a few weeks in the spring. Along with many road trips over the years, a few of his favorites were visiting Key West and the Grand Canyon. In 2011, Vincent flew to Virginia to see his grandson, Joshua, graduate from boot camp. When he heard his oldest granddaughter, Tasha, was getting married in Jamaica, Vincent applied for his first passport and flew with his daughter Lisa and son-in-law, LeRoy, and joined the festivities. Even when travel became difficult for him, Vincent wouldn't have missed these events for anything.
He loved his daily morning drives.
He loved to spend time with his children, grandchildren and great grandchildren.
After years of failing health, Vincent moved to Harmony River Living Center in Hutchinson, in September 2023. He passed away on Saturday, September 30, 2023, at Harmony River Living Center, at the age of 82 years.
Blessed be his memory.
Vincent is survived by his:
Children, Lisa Becker and her husband, LeRoy of Hutchinson, MN,
Michael Forcier of Chaska, MN,
Susan Nordin and her husband, Paul of Victoria, MN;
Daughter-in-law, Gina Yarke and her husband, Randy of Watertown, MN;
Granddaughter, Tasha (Tom) Lambert of Hutchinson, MN; Great-grandson, Jude Louis;
Grandson, Joshua (Kaylyn) Forcier of Waconia, MN; Great-grandsons, Jackson Joshua, Henry Oliver;
Granddaughter, Nora (Stephanie) Forcier of Olympia, WA;
Granddaughter, Taylor (Tim) Duesterhoeft of Hutchinson, MN; Great-grandchildren, Hannah Marion, Immanuel Vincent, Baby August Paul due February 2024;
Granddaughter, Brianna (Jimmy) Forcier of Salt Lake City, UT;
Siblings, Mary Bieber of Lakeville, MN,
Ruth Jarcho and her husband, Ken of Eden Prairie, MN,
Barbara Bergman of Woodstock, GA,
Virgil Forcier of Madison, WI,
John Forcier and his wife, Linda of Stillwater, MN,
Philip Forcier and his wife, Sue of Hutchinson, MN;
Brother-in-law and Sister-in-law, Janice and Larry Phillips of Hutchinson, MN;
Many other relatives and friends.
Vincent is preceded in death by his Parents, Francis and Veronica Forcier; Wife, Marion Forcier; Son-in-law, Darrell Hansen; Parents-in-law, Marvin and Luverne Wendorff; Sisters-in-law, Eunice Pittman, Delores Schuft, Doreen Forcier; Brothers-in-law, Milt Bieber, Carl Bergman; Niece, Debra Green; Nephews, Steven Forcier, Stephen Bieber.
The family of Vincent would like to thank Sylvia and the staff at Fresenius Dialysis Clinic in Hutchinson, the staff at Harmony River and the Hutchinson Disabled American Veterans.