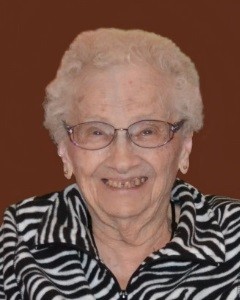 Service Information
Violet Leske, age 98, of Buffalo Lake, passed away Monday, August 22, 2016, at the Hutchinson Health Hospital.
Funeral Service will be held Wednesday, August 24, 2016, at 11:00 a.m. at the Zion United Methodist Church in Buffalo Lake.
Interment will be held in Zion Evangelical Cemetery in Preston Lake Township, rural Buffalo Lake.
Visitation will be Tuesday, August 23, 2016, from 5:00 – 8:00 p.m. at Zion United Methodist Church in Buffalo Lake, and will continue on Wednesday for one hour prior to the service.
Visitation/Gathering
Zion United Methodist Church
306 NW 2nd Street
Buffalo Lake, MN
Service
Zion United Methodist Church
306 NW 2nd Street
Buffalo Lake, MN
Funeral Chapel
Hughes-Hantge Funeral Chapel
311 Main Street S.
Hector, MN 55342
Phone:(320) 848-6297
Cemetery
Zion Evangelical Cemetery (Preston Lake Twp)
Renville County, Preston Lake Township
Buffalo Lake, MN
Renville
Obituary
     Violet Ervie (Fluck) Leske was born in Hector Township, Renville County, Minnesota, on February 8, 1918. She was the daughter of Lawrence and Ervie (Antonsen) Fluck. Violet was dedicated to the Lord as an infant in Holy Baptism. She received her education completing the 8thgrade at Rural School Districts 102 and 51 in Renville County, Minnesota, in a one-room country school with one teacher teaching all grades. Violet and her brothers and sister walked two miles every day across fields to get to school. She loved music, and as a child she sang the "old" hymns at her father's knee as he accompanied her at the piano. In later years she enjoyed playing the organ by ear.
     On May 7, 1935, Violet married Harold Leske at the Zion Evangelical Parsonage.  They made their home in Buffalo Lake, Minnesota, where she lived most of her life. This union was blessed with five children, Sharon, Kathleen, Judith, Richard, and Sheldon. Violet helped out on the farm, milking cows, cooking for many threshing crews, and taking care of her family. She worked alongside her husband, a contractor, building many new homes, six of them on Borden Avenue in Buffalo Lake. They lived in three of the new homes they buit. Several new homes were built in Hector, Minnesota, as well. Violet did all the painting and finishing work in each home. She always said she was a "walking Paint Chart!" As well as new homes, they bought and remodeled many older homes in Buffalo Lake.
     Violet and Harold were members of the "Polka A Dance Club" and also "Uncle Ozzie Band Club" dancing the night away. She also enjoyed car racing, go-cart races, and going on trail rides on their snowmobiles. Harold and Violet celebrated their 65th Anniversary before his passing in 2001.
     As a young woman, Violet joined the Evangelical United Brethren Church, now Zion United Methodist Church, and remained a member all of her life. Violet served as secretary of the Sunshine Circle, Chairman of the Funeral Committee, Sunday School Primary and Junior Department superintendent for over ten years, and taught Vacation Bible School for many years. She always enjoyed working with children and young people.
     Violet sewed all her girls' dresses and coats when they were young.  She baked the Best Bread in town. Coming home from school the girls could smell the "heavenly aroma" two blocks away, and would run the rest of the way home to enjoy a slice of bread "hot out of the oven." She also did beautiful embroidery work, making sets of dish towels for all the kids and grandkids, winning Blue Ribbons at the County Fair. Violet loved her family, which has grown to about 50 now. Getting together for birthdays and holidays was always filled with lots of fun, food, and laughter.
     Early Monday morning, August 22, 2016, Violet passed away at the Hutchinson Health Hospital, having reached the age of 98 years, 6 months, 14 days.  Blessed be her memory.
Violet is survived by her:
Daughter, Kathleen Godejahn of Buffalo Lake,
Daughter, Judith Washburn and husband Clarence of Hector,
Son, Richard Leske and wife Lyn of Buffalo Lake, and
Son, Sheldon Leske and his wife Brenda of Hector;
13 Grandchildren, 19 Great-Grandchildren, and 5 Great-Great-Grandchildren;
Many Nieces, Nephews, other relatives, and friends.
Violet was preceded in death by her parents, Lawrence and Ervie Fluck; Husband, Harold Leske; Daughter, Sharon Niles; Grandson, Richard Harold Leske Jr.; Great-Granddaughter, Aubrey Kopitski; Sons-in-law, Orlin Niles and Larry Godejahn; Siblings: Ethel Kuecker and husband Richard, Orren Fluck and wife Orabelle, Harvey Fluck and wife Carol.
She will be dearly missed.  Precious memories will linger on forever.