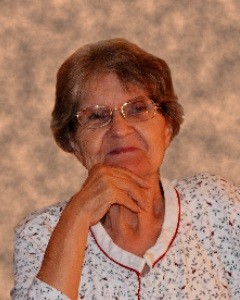 Service Information
Virginia Ruth Becker, age 78, of Hutchinson, Minnesota passed away Thursday, September 15, 2016, at her daughter's home in Battlefield, Missouri.  
Memorial Services will be held Saturday, September 24, 2016, at 11:00 A.M. at the Dobratz-Hantge Funeral Chapel in Hutchinson, with interment in Oakland Cemetery in Hutchinson.
Gathering of Family and Friends will be held one hour prior to the service at the Funeral Chapel.
**Memorials Preferred to the DAV of Hutchinson**
Visitation/Gathering
Dobratz-Hantge Chapel
899 Highway 15 South
Hutchinson, MN
Website:hantge.com
Service
Dobratz-Hantge Chapel
899 Highway 15 South
Hutchinson, MN
Website:hantge.com
Funeral Chapel
Dobratz-Hantge Funeral Chapel
899 Highway 15 South
Hutchinson, MN 55350
Phone:(320) 587-2128
Cemetery
Oakland Cemetery
805 Hwy 15 South
Hutchinson, MN
Obituary
Virginia Ruth Becker was born on April 4, 1938, at her home in McLeod County, Minnesota.  She was the daughter of David and Alma (Bluhm) Olesen.  Virginia was baptized as an infant and was later confirmed in her faith as a youth at Main Street Lutheran Church (now Faith Lutheran Church) in Hutchinson.  She received her education in Hutchinson and was a graduate of the Hutchinson High School Class of 1956.
On October 16, 1971, Virginia was united in marriage to Daniel Becker at the court house in Watertown, South Dakota. Throughout their marriage, Virginia and Daniel resided in Hutchinson, MN, New Auburn, MN, St Francis, MN, and Richmond, MN. They shared 36 years of marriage until Daniel passed away on February 20, 2008.
Virginia owned and operated a ceramic shop called the Paint and Take Shoppe on Hwy 15 South in Hutchinson for many years and later worked at Hutchinson Technology Inc. in Hutchinson. She retired due to illness in 1999.
Virginia enjoyed playing cards for hours on end, working on puzzles, and bird watching. She also enjoyed listening to country music. Virginia loved to socialize and have coffee with the ladies. She also enjoyed their camper at Cozy Corners and fishing on Long Lake, north of Eden Valley, Minnesota.
Virginia moved to Battlefield, Missouri with her daughter and son-in-law in 2014.  She loved being so close to Branson and took in many country shows while she lived there. She passed away after a short battle with cancer at her daughter's home on Thursday, September 15, 2016, at the age of 78 years. 
Blessed be her memory.
Virginia is survived by her:
Children, David McNellis of Rogers, MN,
                  Karen Doelger and her husband, Paul of Battlefield, MO,
                  Alan McNellis of Chanhassen, MN;
Granddaughter, Brandi McNellis (Kemen);
Grandson, Jaxon McNellis;
Nieces, Nephews, many other relatives and friends.
Virginia is preceded in death by her Parents, David and Alma Olesen; Husband, Daniel Becker; Brothers, Victor Olesen, Donald Olesen, Vernon Olesen, Douglas Olesen; Sisters, Doris Otto and Dorothy Klawitter; and Former Husband, James McNellis