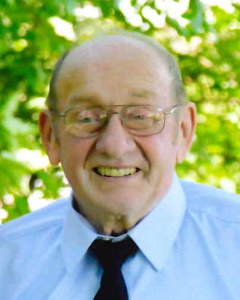 Service Information
Wayne M. Eggert, age 87, of Boon Lake Township, Minnesota, passed away on Sunday, October 10, 2021, at Glencoe Regional Health Services in Glencoe, Minnesota.
Funeral Service will be held Monday, October 18, 2021, at 2:00 P.M. at Immanuel Lutheran Church, Acoma Township with interment in the church cemetery.
Visitation will be held Sunday, October 17, 2021 from 4:00-7:00 P.M at Dobratz-Hantge Funeral Chapel in Hutchinson and will continue one hour prior to the service at the church.
Military Honors by the Hutchinson Memorial Rifle Squad.
Visitation/Gathering
Dobratz-Hantge Chapel
899 Highway 15 South
Hutchinson, MN
Website:hantge.com
Service
Immanuel Lutheran Church - Acoma Township
20882 Walden Avenue
Hutchinson, MN
Funeral Chapel
Dobratz-Hantge Funeral Chapel
899 Highway 15 South
Hutchinson, MN 55350
Phone:(320) 587-2128
Cemetery
Immanuel Lutheran Cemetery (Acoma Twp)
Walden Avenue, Acoma Township, rural Hutchinson, MN
Hutchinson, MN
Obituary
Wayne Merle Eggert was born on July 29, 1934, at his home in Boon Lake Township, Hutchinson, Minnesota. He was the son of Alfred and Anna (May) Eggert. Wayne was baptized and confirmed as an adult on April 12, 1960. He received his education in Hutchinson, and was a graduate of the Hutchinson High School Class of 1952.
After graduation, Wayne entered active military service in the Army National Guard on April 13, 1957. He received an Honorable Discharge on March 17, 1963, and achieved the rank of E-4.
On July 6, 1958, Wayne was united in marriage to Betty Holtz at Immanuel Lutheran Church in Acoma Township, Hutchinson, Minnesota. This marriage was blessed with three daughters, Tammy, Wanda, and Julie. Wayne and Betty made their home at the family farm in Boon Lake Township which has been in the Eggert family since 1874. They moved to Ecumen Oaks in Hutchinson, Minnesota in October 2019. Wayne and Betty were given the gift of 63 years of marriage.
Wayne was employed at Minnesota Valley Breeders. He took his girls along with him on his daily routes when Betty was working outside the home.
Wayne was a dedicated farmer in many ways, by raising hogs in his younger years, to maintaining the family farm, as it transitioned to include beef and dairy cattle. He worked alongside his father Alfred, farming the land raising corn, beans, and alfalfa. He was meticulous about the care of his animals and farmland. He retired from dairy farming in 1991 and continued to raise crops.
Wayne was able to pursue his passion of farming with his large garden, supplying the family with many jars of canned salsa, garlic pickles and tomato sauce. He also grew onions, potatoes and radishes and various other fruits and vegetables.
Wayne had many pets (cats and dogs) during his lifetime. His big and caring heart would take in any stray that needed shelter and food.
During his lifetime, Wayne enjoyed many journeys with family and friends. Most notable, the local day trips by motorcycle, snowmobile, pontoon and their camper "Petie". He was fortunate to have the opportunity to travel to many States in the US, Northern Minnesota, and cruise the Caribbean and Panama Canal.
Wayne enjoyed the outdoors. Some of his hobbies were trapping, hunting and fishing - even though he didn't eat fish! He also spent time with relatives, playing cards and garden tractor pulling. Before cell phones, Wayne communicated with relatives using the "CB handle" of "Rainmaker". He acquired the name Rainmaker, because every time he took out his swather to cut alfalfa, it rained! In his younger years, Wayne played guitar in a band. He was also well known for his joke telling, and even surprised everyone on his "60th" birthday by going water skiing.
His family benefitted from his love of cooking. Hotdishes, Saltine cracker eggs with cheese, and Sunday roast beef dinners were his specialties.

Whenever Wayne purchased a "big ticket item"… before entering the home, he would always toss his hat into the doorway of the house to give warning to Betty that he had been up to something. Betty's normal response was, "What did you buy?!!", even though they had previously discussed the purchase.
Wayne's affection for vehicles found him buying a new car or truck every couple of years, whether he needed it or not! (In comes the hat!) One of his fondest was a 1968 Plymouth Satellite with a Roadrunner engine - even though Betty deemed it hers.
Wayne and Betty had very fond memories of milestone Anniversary celebrations. One of the "63" was a surprise limo ride to Morton, Minnesota for a fun-filled evening with their three girls and spouses.
In his later years, some of Wayne's favorite past times were watching wrestling, westerns, the Minnesota Vikings, Gophers, Lynx and Twins on television.
Wayne was a loving and caring husband to his wife Betty, throughout their marriage and especially during her battle with Breast Cancer. He was her number one support system. He always put her first and ended the day with a goodnight kiss.
Wayne passed away on Sunday, October 10, 2021, at Glencoe Regional Health Services, at the age of 87 years young.
Blessed be his memory.
Wayne is survived by his:
Wife, Betty Eggert of Hutchinson, MN;
Daughters, Tammy Wendlandt and her husband, Don of Hutchinson, MN,
Wanda Gauer and her husband, Brian of Hutchinson, MN,
Julie Petersen and her husband, Mitch of Navarre, FL;
Grandchildren, Cody Wendlandt, Kati Klitzke and her husband, Luke, Andy Weber and his wife, Amanda, Brad Weber and his wife, Kellsie, Dylan Weber and his wife, Ashley, Travis Gauer, Erik Petersen, Tyler Petersen;
Great-Grandchildren, Carson Klitzke, Calla Klitzke, Mara Klitzke, Asher Krajsa, Isabella Krajsa, Peyton Weber, Raelynn Weber, as well as two more great-grandchildren on the way;
Sisters-In-Law, Cordelia "Corky" Frank,
June West,
Peggy Brekke and her husband, Gary;
Son-in-Law Scott Weber and many other relatives and friends.
Wayne is preceded in death by his Parents, Alfred and Anna Eggert; Grandson, Timothy Weber; Brother, James Eggert; Sister, Doris Zummach and her husband, Kenneth; Brothers-In-Law, Eldon Rath, Alvin Holtz, Larry West; Sisters-In-Law, Marlene Rath, Marion Holtz.