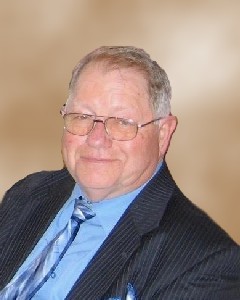 Service Information
Wesley Anderson, age 81 of Hutchinson, Minnesota passed away Friday, November 25, 2016, at the Harmony River Living Center in Hutchinson.
A Memorial Service will be held Monday, December 26, 2016, at 3:00 P.M. at the Seventh-day Adventist Church in Hutchinson, with interment at a later date.
A Gathering of Family and Friends will be held one hour prior to the service at the church. 
Visitation/Gathering
Seventh-day Adventist Church
820 Main Street N
Hutchinson, MN
Service
Seventh-day Adventist Church
820 Main Street N
Hutchinson, MN
Funeral Chapel
Dobratz-Hantge Funeral Chapel
899 Highway 15 South
Hutchinson, MN 55350
Phone:(320) 587-2128
Cemetery
Oakland Cemetery
805 Hwy 15 South
Hutchinson, MN
Obituary
Wesley Dale Anderson was born on January 2, 1935 in Ruthven, Palo Alto County, Iowa at his parents' home. He was the son of Lewis and Alice (Bensen) Anderson. Wesley grew up in Morgan, Minnesota and was a graduate of the Sanborn High School Class of 1953. He furthered his education taking several classes in a Chicago Trade School for Diesel Mechanics. 
On August 20, 1956, Wesley was united in marriage to Harriet (Andersen) Anderson in the Maplewood Academy Chapel in Hutchinson. After moving to Dodge Center, Minnesota, where Harriet taught school for one year, they returned to Hutchinson to raise their family. During those years, Harriet and Wesley were blessed with three children: Clinton, July 28, 1957; Kimberly, April 29, 1959; and Curtis, December 18, 1961. They shared 53 years of marriage until Harriet passed away on March 21, 2010.
Wesley held employment as a Mechanical Engineer at Satellite Industries in Plymouth, Minnesota. He was a lifelong member of the Seventh-Day Adventist Church in Hutchinson, and served in various roles as Pathfinder leader, Sabbath School teacher, Deacon and Elder.
Wesley remained active, riding motorcycle until the age of 80 and playing volleyball until February, the month he was diagnosed with cancer. He loved to travel, taking advantage of his truck driving skills to travel around the U.S. He enjoyed taking his family to the Boundary Waters Canoe Area every summer while his kids lived at home where he enjoyed camping, canoeing, and fishing. In his later years, he spent as much time as he could on the lakes around Hutchinson fishing in summer or winter. Blessed with a gift for music, he learned to play the guitar on his own. He spent hours learning folk songs that he was frequently asked to perform to the delight of those listening. The legacy of music that Wesley and Harriet passed on to their kids is evident in their grandchildren, as well. 
When Wesley needed assistance with his daily care, he became a resident of the Harmony River Living Center in Hutchinson, Minnesota on October 10, 2016. He passed away there on Friday, November 25, 2016, at the age of 81 years.
He will be truly missed.
Wesley is survived by his:
Children, Clinton Anderson and his wife, Leah of Columbus, WI,
                  Kimberly Wooster and her husband, Nicholas of Hutchinson, MN,
                 Curtis Anderson and his wife, Bridget of Spangle, WA;
6 Grandchildren, Melissa, Heidi and Gregg Anderson, James and Karl Wooster and Ronnie Anderson; Siblings, Gloria Row of Rock Rapids, IA, 
                    Lewis Anderson of Allendale, MI,
                    Ruby Baer and her husband, Wayne of Ronan, MT,
                    Rosemary Anderson and her husband, Bill of Las Cruces, NM,
                    Charles Anderson and his wife, Berniece of Hutchinson, MN;
Brother-In-Law, Kenneth Andersen and his wife, Midge of St. Cloud, MN;
Sister-In-Law, Sharon Johnson and her husband, Ivan of Hutchinson, MN;
Many other relatives and friends. 
Wesley is preceded in death by his Parents, Lewis and Alice Anderson; Wife, Harriet Anderson; Brother-In-Law, Alvin Andersen, and infant grandson, Kurt Wooster.