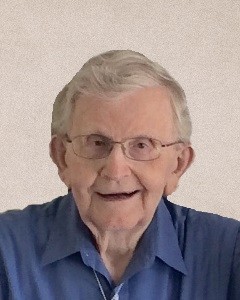 Service Information
September 30, 2016
William "Bill" Piehl, age 89, of Rochester, formerly Hutchinson, passed away  Thursday, September 29, 2016, at Shorewood Senior Campus in Rochester.  
 A Memorial Service will be held Sunday, October 2, 2016, at 2:00 P.M. at Bethlehem United Methodist Church in Hutchinson, with interment in the Oakland Cemetery.  
A Gathering of Family and Friends will be held Saturday, October 1, 2016, from 4:00 P.M. to 7:00 P.M. and will continue one hour prior to the service, all at Bethlehem United Methodist Church.
Military Honors by the Hutchinson Memorial Rifle Squad.
Visitation/Gathering
Bethlehem United Methodist Church
665 Miller Avenue SW
Hutchinson, MN
Service
Bethlehem United Methodist Church
665 Miller Avenue SW
Hutchinson, MN
Funeral Chapel
Dobratz-Hantge Funeral Chapel
899 Highway 15 South
Hutchinson, MN 55350
Phone:(320) 587-2128
Cemetery
Oakland Cemetery
805 Hwy 15 South
Hutchinson, MN
Obituary
William "Bill" Piehl was born on July 9, 1927, in Aitkin, Minnesota.  He was the son of Adolph and Ella (Mandler) Piehl.  Bill was baptized as an infant on August 30, 1927, in Aitkin, and was later confirmed in his faith as a youth on April 13, 1941, at the Evangelical United Brethren Church in Hutchinson, Minnesota.  He received his education in Hutchinson and was a graduate of the Hutchinson High School Class of 1945.   
Bill entered active service in the United States Army on February 13, 1946, in Fort Snelling, Minnesota, and served his country during the aftermath of World War II as a general clerk.   He received an Honorable Discharge on May 3, 1947, in Camp Beale, California.  
On August 26, 1955, Bill was united in marriage to Joyce Utzinger at the Evangelical United Brethren Church in Hutchinson.  This marriage was blessed with 4 children, Cathy, Carol, Connie and Carla.  Bill and Joyce resided and farmed in Hassan Valley Township, McLeod County, Minnesota.  They moved to Hutchinson in 1997, and later moved to Rochester, Minnesota in 2014. Bill and Joyce shared 61 years of marriage. 
Bill was a lifelong farmer.   Over the years he was active in various clubs and organizations. Bill held several church offices and was involved in several committees.  He served on the County Extension Committee for 19 years, Community Ed Advisory Board, United Way Board, Region 6E Advisory Council on Aging, chairman of the first Burns Manor Family Council, Ombudsman Committee, Farm Credit Mediator, Hutch Coop Creamery Board, and served as chairman of the Hutchinson Farm Service Board. He was honored to have made the Minnesota Swine Honor Roll in 1965 (based on production records), as well as the JC outstanding Young Farmer award in 1959. Bill's family was selected as the McLeod County Farm Family of the Year in 1985. He was also a former member of the Kiwanis, a member of Gideon's International and volunteered at the information desk at Hutchinson Community Hospital, (now Hutchinson Health Hospital). 
Bill enjoyed woodworking.  He also enjoyed traveling, attending concerts and playing cards.   He especially cherished the time he spent with his wife, children and grandchildren.
Bill is survived by his:
Wife, Joyce Piehl of Rochester, MN;
Children, Cathy Maguire and her husband, Allan of Northfield, MN,
                  Carol Porter and her husband, Paul of Bemidji, MN,
                  Connie Johnston and her husband, Steve of Rochester, MN,
                  Carla Mueting and her husband, Timothy of Normal, IL;
Grandchildren, Angela (Maguire) Jackson and her husband, Jesse , Kristy (Maguire) Glynn and her husband, Mike, Daniel Porter, John Porter and his wife, Charity, Naomi Porter, Benjamin Porter, Jennifer (Johnston) Gilbertson and her husband, Scott, Matthew Johnston, Samuel Mueting and John Mueting;
Great Grandsons, Luke Jackson, Luke Porter, Isaiah Porter; 
Sister, Luella Taylor of Hutchinson, MN;
Nieces, Nephews, many other relatives and friends. 
Bill is preceded in death by his: Parents, Adolph and Ella Piehl; Brother, Benjamin Piehl; Half Brothers, Harvey Piehl, Alvin Piehl, Lawrence Piehl, Herbert Piehl, Brother-In-Law, Earl Taylor.