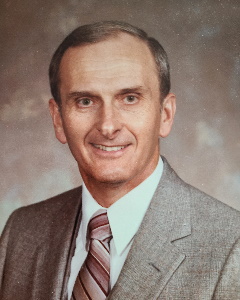 Service Information
William "Bill" Snyder, age 91, of Hutchinson, Minnesota, passed away on Wednesday, November 2, 2022, in Colorado Springs, Colorado.
Memorial Service will be held on Saturday, November 19, 2022, at 11:00 A.M. at Vineyard United Methodist Church in Hutchinson with interment in Oakland Cemetery.
Gathering of Family and Friends will be on Saturday, November 19, 2022, from 9:00 to 11:00 A.M. prior to the service at the church.
Memorials preferred. 
Military Honors by Hutchinson Memorial Rifle Squad.
Funeral Chapel
Dobratz-Hantge Funeral Chapel
899 Highway 15 South
Hutchinson, MN 55350
Phone:(320) 587-2128
Obituary
William John Snyder was born October 26, 1931 in Mountain, WI. He was the son of William and May (Whitford) Snyder. During his childhood he lived in Texas, Tennessee, Mississippi, and Ohio prior to his family moving to Minnesota in 1944. Bill graduated from Olivia High School in 1949 and Macalester College in 1953 where he also received his Master's Degree in Education in 1959. In 1972, he received an Education Specialist Degree from the University of St. Thomas.
Following his graduation from college in 1953, Bill served in the United Stated Army in Germany until June, 1955. He was united in marriage with Helen Marie Olson on May 31, 1958 at Minnehaha Methodist Church in Minneapolis, MN. They resided in Renville, Minnesota for three years prior to moving to Hutchinson in 1961 where they made their home until April of 2022 when they moved to Colorado Springs, CO.
The first 14 years of Bill's 38-year career in education were spent teaching and coaching. He began his teaching career at Watertown High School from 1955 – 1957. He taught at Renville High School from 1957 – 1961 and then at Hutchinson High School from 1961 – 1969. Bill also served as head football coach in Renville and Hutchinson (1964-69).
In 1969 Bill became Assistant Principal at Hutchinson High School. In 1974 he began his career as principal of Hutchinson Junior High School and served as principal of Hutchinson Middle School from 1990 until his retirement in 1993.
Professionally, Bill was active in the Minnesota Association of Secondary School Principals. He served on the Board of Directors, the Executive Committee, and was elected President in 1987. He was a long-time member of Vineyard Methodist Church where he served as chairperson of the Board of Trustees and the Administrative Board. Bill was a member of the Optimist Club for over 25 years, twice serving as president. He also belonged to the Kiwanis Club for over 20 years and served as president in 2009. He was a charter member of the Tuesday Breakfast Club and served a two-year term as co-president. As a member of the Jaycees, Bill served two years as parade chairman of the Hutchinson Water Carnival. He also served on the Board of Directors of the McLeod County Group Homes.
Bill officiated high school basketball games for 25 years. In retirement, he was a volunteer instructor in AARP's Defensive Driving Program for 15 years. In 1969 he was one of eight finalists for the "Minnesota High School Football Coach of the Year." In 1988, Bill was one of eight finalists for Minnesota Association of Secondary School Principals award - "Principal of the Year."
Bill is survived by his devoted and loving wife of 64 years, Helen; son Mark and daughter-in-law Sylvia of Oregon City, OR; daughter Susan and son-in-law Bill Walsh of Colorado Springs, CO; son Paul and daughter-in-law Missy of Westminster, CO; grandchildren Ina Skidmore and husband Todd, Christopher Snyder and wife Doris, and Kathryn Snyder; great granddaughter Kylee DeBray; niece Lisa Johnston and her husband Steve; nephews Scott Olson, David Olson, Don Walker and his wife Nancy, Dale Walker and his wife Merrie.
Bill is preceded in death by his parents William and May Snyder; father-in-law Ralph B. Olson; mother-in-law Ruth Olson; brother-in-law Ralph B. Olson Jr and his wife Donna; brother-in-law Harold Walker and his wife Mary; nephews Richard Walker and Dean Walker.