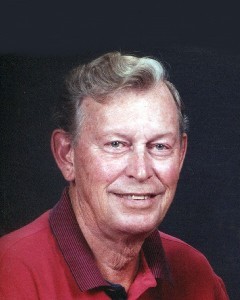 Service Information
William "Bucky" F. Greve, age 86, of Gaylord passed away Monday, April 6, 2015, at Harmony River Living Center in Hutchinson following a brief battle with lung cancer.
Memorial Service will be Friday, April 17th, 11:00 A.M. at American Lutheran Church in Gaylord with interment in Immanuel Lutheran Cemetery in Gaylord.
Gathering of Family and Friends will be Thursday, April 16th, from 4:00 P.M.-7:00 P.M. and Friday, April 17, 2015, from 7:30 A.M.-8:30 A.M. at the Egesdal Funeral Home in Gaylord. Gathering of Family and Friends will continue one hour prior to the service at the church on Friday.
Military Honors by the Manthey-Asmus American Legion Post #433 of Gaylord. 
Visitation/Gathering
Egesdal Funeral Home
74 Main Avenue
Gaylord, MN
Website:hantge.com
Service
American Lutheran Church
911 8th Street
Gaylord, MN
Funeral Chapel
Egesdal Funeral Home
74 Main Avenue
Gaylord, MN 55334
Phone:(507) 237-2388
Cemetery
Immanuel Lutheran Cemetery (Gaylord)
Highway 22 North
Gaylord, MN
Obituary
William "Bucky" Greve was born on May 21, 1928, in Gaylord, Minnesota, to Franz and Martha (Doering) Greve. Bucky was baptized as an infant and was later confirmed in 1942, both at Immanuel Lutheran Church in Gaylord. He graduated from Gaylord High School in 1946.
Bucky served in the U.S. Army in the post-war occupation of Japan, where he was an MP and played on the base's basketball team. Following military duty, he went to the Minneapolis Business College on the G.I. Bill, where he received a Senior Accounting degree. He met his wife, Gloria (Ramich) Greve – visiting Gaylord from her home in California – on a blind date. They were married in 1951, for 54 years, until her death in 2005.
Bucky was on the staff of the Gaylord Hub newspaper for more than forty years as a sports writer and printer, retiring in 1993. He was known throughout southwestern Minnesota for his weekly BuckShots column, where he covered local sports and mused about the Gophers and Minnesota's professional teams. He was a fixture at high school sporting events, as both the press and a true sports fan.
An avid golfer for nearly his entire life, Bucky was a long-time supporter of the Winthrop Golf Club, where he was a former member of the board of directors. He'd had three holes-in-one, and enjoyed being on a golf course with his family and friends more than just about anything. Following retirement, he and Gloria spent their winters in Arizona for 17 years.
Bucky was active in the community as a member of the American Legion Post 433, a member of the Gaylord Baseball board, a secretary for the Gaylord Bowling Association, a director of the Gaylord Ambulance Service, a Gaylord Civil Defense director, and a member of the American Lutheran Church.
Bucky is survived by his: 
Son, David Greve and daughter-in-law Sandy Greve of Annandale, MN; 
Daughter, Lisa Greve and son-in-law Edward Rubacha of Phoenix, AZ; 
Grandchildren, Ben and Lindsay Greve of Golden Valley, MN, Tim and Alyssa Greve of Plymouth, MN, and Lauren Haire of Denver, CO.
Bucky was preceded in death by his wife, Gloria; grandson, Nicholas Greve; parents, Martha and Franz Greve; sisters, Geri Scheer and Eunice Gagne.