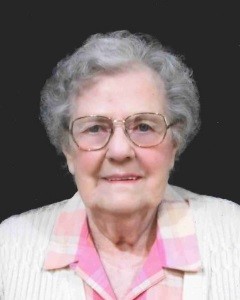 Service Information
Wilma Ebbers, age 98, of Hector, passed away Thursday, July 6, 2017, at the Buffalo Lake Healthcare Center. 
Mass of Christian Burial will be held Wednesday, July 12, 2017, at  11:00 A.M.  at St. John's Catholic Church in Hector, with interment in the church cemetery.
Visitation will be held Tuesday, July 11, 2017, from 5:00 – 8:00 P.M. at the Hughes-Hantge Funeral Chapel in Hector, with a Prayer Service at 7:00 p.m.  Visitation will continue Wednesday at St. John's Catholic Church for one hour prior to the service.
Visitation/Gathering
Hughes-Hantge Chapel
311 Main Street South
Hector, MN
Website:hughes@hantge.com
Service
St. John's Catholic Church
301 Cedar Avenue East
Hector, MN
Funeral Chapel
Hughes-Hantge Funeral Chapel
311 Main Street S.
Hector, MN 55342
Phone:(320) 848-6297
Cemetery
St. John's Catholic Cemetery (Hector)
Hector, MN
Obituary
Wilma Dorothy Ebbers was born February 23, 1919, in Dodge, Nebraska, the daughter of Conrad and Mary (Knust) Kluthe. She grew up and received her education in Nebraska.
On January 14, 1941, Wilma was united in marriage to Alfons Ebbers at the Sacred Heart Catholic Church in Olean Nebraska. To this union three children were born, Ron, Marilyn, and Diane. Wilma and Alfons farmed in Nebraska until moving their family to Hector, Minnesota, in 1956. They farmed in the Hector area until retirement in 1976. They had shared 55 years of marriage when Alfons passed away on June 12, 1996.
Wilma was a member of St. John's Catholic Church in Hector. She was a reverent and prayerful woman. She enjoyed baking, sewing, and participating with Heart to Heart, a recreation for senior citizens.
Late Thursday evening, July 6, 2017, Wilma passed away at the Buffalo Lake Healthcare Center, having reached the age of 98 years. Blessed be her memory.
Wilma is survived by her:
Son, Ronald Ebbers and friend, Sharon Lothert, of Hector, Minnesota;
Daughters: Marilyn Bipes and her husband, Kenneth, of Burnsville, Minnesota, and
                    Diane Mages and her husband Ronald of Paynesville, Minnesota;
Grandchildren: Jim Ebbers (Joilie), Kathryn Grieger (Perry), Brian Bipes (Miranda), Sara Motzko (Shannon), and Jason Mages (Angie);
Great-Grandchildren: Jacob Mages, Alex Mages, Brett Mages, Aaron Mages, Michelle Grieger, John Grieger (Heather), Katelin Motzko, Gavin Motzko, Joseph Bipes, Samantha Zeitz (Jesse), Bradley Ebbers, Rebecca Ebbers, Marissa Ebbers; 
nieces, nephews, other relatives, and friends.
Wilma was preceded in death by her: Parents; Husband Alfons Ebbers; Daughter-in-law Kathy Ebbers; Son-in-law Ken Lange; Grandson Wayne Mages; Great-Granddaughter Taylor Mages; Brothers: Irvin Kluthe, Daniel Kluthe, and Vernon Kluthe; Sisters: Betty Dau, Darlene Uher, and Lorraine Reason.