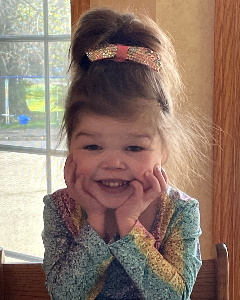 Service Information
Zella J. Thode, age 8, of Hutchinson, Minnesota, passed away on Thursday, September 16, 2021, at Hutchinson Health.
Celebration of Life will be held on Wednesday, September 22, 2021, at 11:00 A.M. at Faith Lutheran Church in Hutchinson.
Gathering of Family and Friends will be held on Tuesday, September 21, 2021, from 4:00-8:00 P.M. and one hour prior to the service, all at Faith Lutheran Church.
Memorials preferred listed as follows:
Ronald McDonald House - Upper Midwest (MN) 
https://rmhc-uppermidwest.org/Support/index.html
Colten's Joy (Team Colten) 
https://www.paypal.com/paypalme/ColtensJoy
Fiona's Hope 
http://www.fionashope.org/donate.html
Visitation/Gathering
Faith Lutheran Church
335 Main Street S
Hutchinson, MN
Service
Faith Lutheran Church
335 Main Street S
Hutchinson, MN
Funeral Chapel
Dobratz-Hantge Funeral Chapel
899 Highway 15 South
Hutchinson, MN 55350
Phone:(320) 587-2128
Obituary
Zella Jo Thode was born on February 22, 2013, at The Mother Baby Center in Minneapolis, Minnesota. She was the daughter of Matthew & Sara (Daniels) Thode and sister of Jones (10) and Hawkins (7). Zella was baptized as an infant on February 28, 2013, at Children's Hospital in Minneapolis, Minnesota with a Baptismal Blessing on November 2nd, 2014, at Faith Lutheran Church in Hutchinson, Minnesota.
For 8 ½ years, we have had the pleasure to watch in amazement all that she had accomplished. She had proved countless doctors and specialists wrong and defied all odds against her through her two open-heart surgeries, multiple heart caths, and a long list of other procedures. She fought battle after battle with a smile on her face and usually a large bow in her hair. God had a special plan for her from the very beginning and we are so proud and blessed to have been alongside her during this journey.
Zella loved school and was currently attending third grade at Park Elementary School in Hutchinson, Minnesota. Zella enjoyed bossing her brothers around but was also their biggest fan. Her perfect day was going out for lunch with her bestie, Jamie, then browsing Target aisles until she found the one thing she just had to have. She loved Baby Yoda, opening surprise bags, video & arcade games, I pad & YouTube. Her favorite foods were chips and dip, pepperoni, and pretzels.
Zella stole the hearts of many. She inspired us every day and showed that "special" has more to do with what you can do than what you can't. She brought people together with her bright personality and infectious smile. She made the world a better place and made us better people. Zella radiated kindness, love & joy.
Zella passed away in the embrace of her parents on Thursday, September 16, 2021, at Hutchinson Health in Hutchinson, Minnesota at the age of eight years old.
Zella is deeply loved & brought immense joy to those around her. Blessed be her memory.
Zella is survived by her:
Parents, Matthew and Sara Thode; Siblings, Jones and Hawkins Thode; Grandparents, Timothy Thode and his wife, Gail, Gary Daniels and his wife, Sharon; Great-Grandparents, Florian Thode, Joyce Schmidt; Best Friend, Jamie Johnson; many aunts, uncles, cousins, and friends residing in the Hutchinson, Minnesota area.
Zella is preceded in death by her Aunt, Melissa Daniels; Great-grandparents, John Schmidt, Myron and Hazel Daniels, Vernice Thode, Robert and Luella Gutormson.