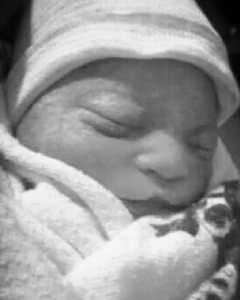 Service Information
Private Burial will be held.
Obituary
Zendaya Ariel Dixon, infant daughter of Anntrovalla Shantina and Terreil Dixon, was stillborn on Sunday, August 20,2017, at Ridgeview Medical Center, Waconia, MN. Zendaya was able to be cradled in the loving arms of her parents.
Looking like her daddy, with a her mom's lips, Zendaya has already touched the hearts and lives of so many here on earth. She'll have Heaven before we do and we can't wait for the day to hold her again.
Zendaya is preceded in death by her maternal grandfather Robert Holden and paternal grandfather Elcanyo Dixon Sr. Zendaya is survived by parents Anntrovalla Shantina and Terreil Dixon Sr., big brother's Terreil Dixon Jr., Armani Simeon Dixon, Kahlil Elijah Vaughn; big sister Sophia Mackenzie Dixon; maternal grandmother Annette Hemingway, and paternal grandmother Joelle Garrett; several aunts, uncles and cousins.
A private burial will be held at 10:00 AM, Tuesday, August 29th, 2017 at Guardian Angels Cemetery, 8260 4th Street North, Oakdale, MN 55128.
The family would like to thank Star Legacy Foundation, and Halos of the St. Croix Valley Foundation for all of their love and support at this difficult time.
In lieu of flowers, the family is requesting memorials be given in Zendaya's memory to Halos of the St. Croix Valley, 207 South Knowles Avenue, New Richmond, WI 54017.